13 Ultimate Sustainable Christmas Ideas For 2021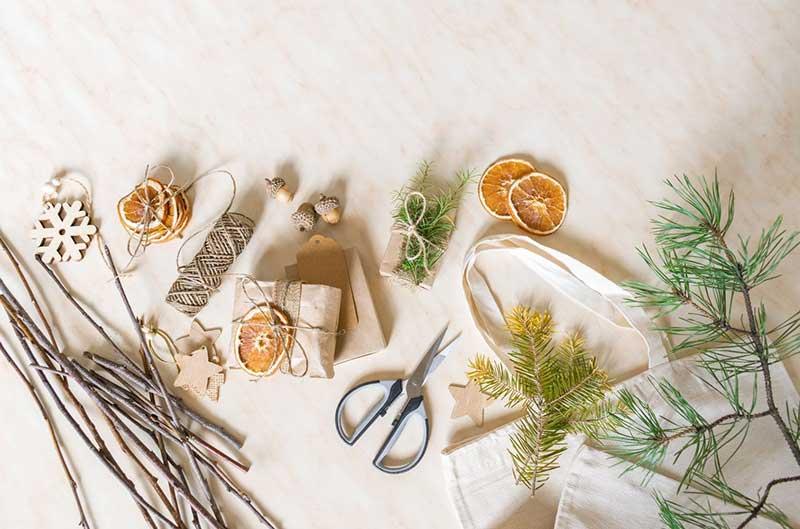 Finally, the season we've all been waiting for is just around the corner. Many of us have spent this year transforming our lives towards eco-friendly living and becoming unassailable sustainability superheroes. What better way to celebrate our successes than to prepare to have a sustainable Christmas this year? Here, we want to be true to the cause and recycle the best parts of last year's Sustainable Christmas ideas, while making a few adjustments, and adding some tips for Christmas 2021.
Here are 13 tips that will certainly help us to go in the right direction.
1. Get a green Christmas tree
Somehow, we were led to believe that an artificial Christmas tree made from PVC (dubbed by Greenpeace to be the single most environmentally damaging plastic) is more sustainable than a cut-down tree. However, recent research suggests that you'd have to keep using an artificial tree for around 20 years for it to be more eco-friendly.
So, here's what you can do to make sure your tree is as sustainable as it can be:
If you already have an artificial tree at home, use it until it can't be used anymore and make the best of it. When it has reached the end of its life, it can be repurposed rather than thrown away.
If this option is available in your area, rent a potted tree. Most potted tree providers will drop off the tree before Christmas and pick it up early in January.
If you're getting a cut-down tree, ensure that it's been grown locally and recycle it after Christmas.
2. Reusable or repurposed gift wrap
Did you know that most Christmas gift wrap can't be recycled? That means it's piling up in landfills. Instead, there are plenty of eco gift wrap options to try.
One of our favourite sustainable Christmas ideas is opting to use recycled and recyclable wrapping paper. Or take it even further...old newspaper can give presents a rustic feel while investing in reusable gift bags or cotton wrapping cloths pays off in the long run, as you can keep and reuse them for years to come. Additionally, we can even use biodegradable and compostable packing, so you can be sure that even after you have given the gift away, the packaging will not have a bad impact on the environment, even if it's thrown in the bin. 
3. Create a sustainable menu
Your first instinct when choosing what to put on your table for Christmas will probably be to buy as locally as possible. While that is a great idea, transportation carbon emissions only make up a fraction of the environmental impact of the foods we eat! Most emissions are created through the farming process and change of land use to make space for food cultivation.
Data shows that plant-based foods have a carbon footprint that's 10-50 times lower than that of meats and other animal products. If your family does not particularly fancy traditional Christmas meals, why not venture out and give vegetarian alternatives a try? However, if you're someone who can't say no to meat on Christmas, just having poultry or farmed fish instead of beef or lamb can make a massive difference!
4. Sustainable decorations
There are a few simple sustainable Christmas ideas that will help you decorate without damaging the environment. First, make use of what you already have, instead of buying new every year. Whenever you do need to buy new decorations, try searching for second-hand options in thrift stores. Finally, decorate with pinecones, dried orange slices, cinnamon sticks and other naturally beautiful fruits of mother nature that are easily disposed of at the end of their life! 
5. Know how much you'll eat
Food waste is a massive issue in our society: 30% to 40% of all our food is thrown away uneaten! When food waste ends up in landfills, it cannot decompose properly and produces methane. Wasted food also means that any resources needed to produce it have been wasted. Most people would agree that it is irresponsible to waste food when world hunger is still rising, especially when we consider the figures. In the UK, 9.5 million tonnes of food are wasted, while at the same time approximately 8.4 million people live in food poverty.
When making your Christmas meal, make sure you know how much you can actually eat, to limit your waste. If you still have some leftovers you can't finish, store them in the freezer to enjoy in January!
6. Get a reusable Christmas advent calendar
Here's a hidden gem among sustainable Christmas ideas – invest in a reusable Christmas advent calendar you can fill up yourself, instead of buying a new one every year. It is an investment that will pay off in the long run, not just environmentally but also money-wise. Christmas calendars tend to be very overpriced! 
7. Switch to LED lights
Here's a simple switch for a more eco-friendly Christmas – get LED Christmas lights for your tree or other decorations. They consume 80% less energy than twinkling incandescent lights. Even better, if you have any outdoor Christmas decorations, switch to ones powered by solar energy and set them on a timer so you don't waste any precious power.
8. Send eco-friendly cards
Christmas cards can be a wonderful tradition – but if you're looking to cut down on the amount of paper you're using and carbon emissions you're producing, you can try sending virtual ones instead. Even then, it can still be problematic to fill inboxes with emails that indefinitely linger inside the inbox, because even though it seems harmless, storing the data produces a significant CO₂ footprint. If you still prefer to send a nice quality card at christmas time, then make sure they are printed of FSC certified paper, or even better, cards made from recycled paper. There are even flower seed eco friendly Christmas cards available now!
Plantable wildflower cards are becoming really popular as well now, and they can be planted at the end of their life and will turn into a wonderful flower patch. Obviously, these had to fall into our sustainable Christmas ideas list for 2021!
9. Reusable crackers – or no crackers at all?
Christmas crackers can add up to a lot of waste. If you can't part waste with the tradition, invest in reusable crackers you can fill up yourself or more sustainable, plastic-free options. If, on the other hand, crackers were never your favourite, why not skip them and try making your own tradition instead? 
10. Write a list
Almost 60 million unwanted presents are exchanged each Christmas just in the UK alone. Those gifts then sit in the recipient's garage for years or end up being thrown away.
When we were kids, we would always write a list of what we wanted to get for Christmas. Why did we stop as adults? One sustainable Christmas idea could be to agree with your loved ones in advance to share what you'd like to find under the Christmas tree, and you'll find your gift-giving will be much more sustainable as well as stress-free.
11. Don't overheat the house
Christmas is a time of year when a lot of food is being cooked for family and friends. For those who spend the day boiling brussels sprouts and roasting turkeys, it's estimated that a single day of Christmas cooking uses approximately two days' worth of energy in an average American household. However, simply just turning down the heating in the house while cooking means that the extra heat from our ovens can be put to use to heat the house for free, too!
12. Sustainable credit cards
Admittedly, it can be quite difficult to make sure that every gift that you buy is as eco-friendly as we'd ideally like, especially if you have a lot of people to buy for. However, there are many eco-friendly financial options available now, meaning that using an ethical bank to buy gifts can help us to have a sustainable Christmas. Using a credit card from an ethical bank as opposed to a traditional bank for example, means that you can be sure that you are reducing (if not totally removing) your impact on the environment.
13. Resist filling the Fridge!
In tip 5, we talked about how important it is to not prepare too much food, but if it does happen, here is another bit of advice to keep a sustainable Christmas within our reach. If there is too much food, it is much better to give it away to other people, rather than filling up the fridge. The fridge is plugged in all day and night and is responsible for an estimated 63% of total electricity demand in the home. What is worse is that the fuller the fridge get inside, it will begin to work harder and harder to keep the temperature cold, hence using a lot more energy. Try sharing leftovers with friends and family before storing it in the fridge.
Got anymore eco-friendly and sustainable Christmas ideas we've missed? Drop them in the comments below!
|
Posted on November 10 2021