Make Your Morning & Evening More Eco Friendly with Plastic-Free Toothpaste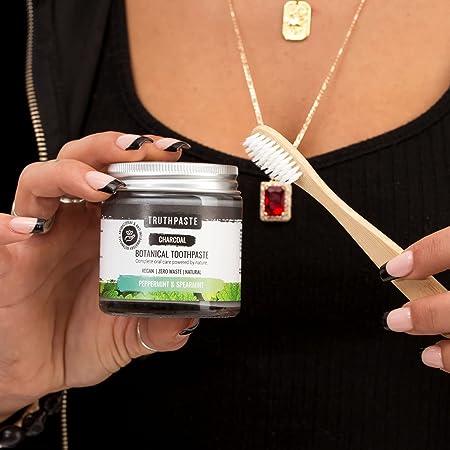 A healthy lifestyle comes with a good diet and regular exercise…and sometimes an overlooked step: good dental hygiene. Regularly brushing your teeth not only gives you a brighter smile but it also rids your mouth of any harmful bacteria. However, most types of toothpaste come with toxic chemicals, such as propylene glycol, triclosan, and sodium lauryl sulphate (SLS). In addition to that, toothpaste comes in plastic tube packaging that is non-recyclable and harmful to the environment.
Luckily, reliable manufacturers have found a way to distribute a plastic-free toothpaste alternative. These all-natural toothpastes are blended with minerals and essential oils that prevent disease-causing bacteria from thriving inside your mouth. Plastic-free toothpaste comes with or without fluoride, and never with glycerine or sodium lauryl sulphate, making it the healthiest option for your dental routine.
Afraid you might not get that minty fresh breath you get with regular toothpaste? Fear not, you can get that from organic toothpaste as well! Leading manufacturers offer various flavours, including English peppermint and lime, fennel, and spearmint. Your mouth will always feel fresh after brushing your teeth, even with the foaming agents and SLS you always find in non-organic toothpaste.
Plastic-free toothpaste is an excellent alternative for those seeking to live an eco-friendlier lifestyle. These products can be purchased in refillable glass jars — perfect for reducing your waste around your bathroom sink! Other products, such as toothpaste tablets, come in portable tins if you need to freshen your breath outside your home. Trusted suppliers in the UK offer affordable refill packs should you run out.
Avoid exposing your mouth to harmful chemicals and start using plastic-free toothpaste. Purchase a set from reliable providers that have years of experience in manufacturing eco-friendly products. Choose a store that supports customers in their quests to live more sustainably and responsibly.
|
Posted on April 14 2019