Benefits Of Organic Skincare And the Endemic That Is Greenwashing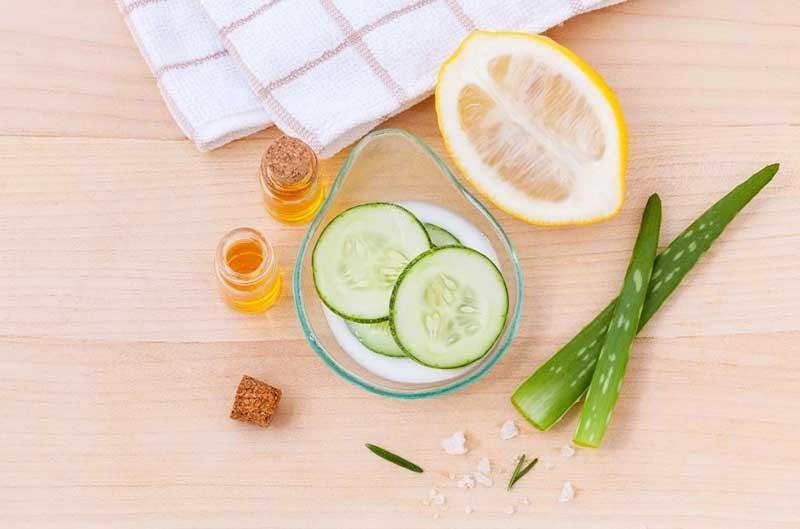 So What Are The Benefits Of Organic Skincare?
A lot of people ask me what the benefits of organic skincare are when I tell them I only use organic products. What is the difference between natural and organic beauty products compared with most off-the-shelf brands, and what is greenwashing we keep hearing about? The derived ingredients in beauty products come from one of two ways: natural or man-made. Within the world of cosmetics, 'natural' simply means the ingredients used have come from nature. This doesn't mean they haven't been grown without pesticides or other harmful chemicals. Synthetic fragrances, parabens and other preservatives are all man-made ingredients found in products. This is a choice that you, the consumer, will have to decide whether you're happy with.
Today, we're more aware than ever about these harmful chemicals, and whether they pose a risk or not to our health. But with over 75% of skincare products containing parabens - a chemical compound of para-hydroxybenzoic acid - it's best to check those ingredients before you purchase your next skincare product.
When you read that the ingredients are organic, this then means that harmful chemicals and pesticides are not used to grow these natural ingredients. If your product is labelled as 'certified' organic, it will be completely free from artificial ingredients, hormones, pesticides and other additives - truly green beauty. And moving on to the next step:
How Can I Tell What Organic Skincare Is Authentic? What Is Greenwashing?
So now is as good a time as ever to shed some light on what really goes on within the cosmetics industry. More people are becoming aware of organic beauty products, often described as a natural - or cruelty-free or vegan. These are the terms that brands love to print over their packaging and their products. As brands realise consumers are shopping these kinds of beauty products, so their labelling follows suit.
There is currently no legislation that governs organic and natural products within the industry. Without this regulation, brands can go ahead and whack a load of organic labelling over their products even if this makes up 1% of the total ingredients. Welcome to the world of greenwashing. Brands can go ahead and abuse this lack of regulation without being legally tight. This is super prevalent within the industry and can be very confusing.
So how can you be sure that your organic skincare is authentic? If you want to be certain, you have to look out for the trusted and recognised The Soil Association logo. If your skincare carries this certification, you can be sure that they have met all of the stringent criteria to become certified.
What Does Certified Organic Mean?
If your product carries The Soil Association logo, this means that 70% or more of the ingredients are organic. This percentage of ingredients are all grown without the use of harmful chemicals and pesticides and are not genetically modified. The Soil Association label also means that the product isn't tested on animals. The ingredients must be sourced sustainably without bringing any harm to the environment to be certified. It's a tough certification to achieve, but with it comes the trust a lot of us are looking for these days. No more greenwashing, and no more fluffing up of eco language to make it sound more appealing. Just a green beauty product that ticks the right boxes
What Is The Difference Between Vegan Beauty Products And Organic?
A certified vegan beauty product means that it doesn't contain any animal by-products. An organic product can still contain animal by-products, such as beeswax. If you are vegan, keep an extra eye out for the vegan certification.
Can Certified Vegan Products Still Contain Harmful Chemicals?
Unless Your certified vegan products also carry The Soil Association logo, then the product could still contain harmful chemicals, sulfates, hormones, pesticides, artificial ingredients and other additives.
What Are The Most Common Harmful Chemicals Found In Beauty Products?
There are many benefits of organic skincare and green beauty. Without the use of chemicals, your skin gets to breathe again and relax. As we mentioned earlier, parabens are rift amongst most beauty products. But what are they used? They are simply a preservative, used to increase a products shelf life and prevent bacteria growth. Their 'bad press' came almost two decades ago, which studies linking the use of parabens to breast cancer. Although declared in European legislation as 'safe to use' within the cosmetics industry, many people still have their doubts and have completely avoided it. Denmark has banned it from children's products because of their concerns with it.
Like parabens, SLS is also used in many cosmetic products and serves as a substance which enables a product to foam. SLS - or sodium lauryl sulphate - is often found in soaps, shampoo's, detergents and toothpaste. There are concerns that when mixed with other ingredients, the toxicity can increase and cause irritation to the eyes, scalp and skin. If you suffer from sensitive skin, I would recommend avoiding.
The Logos Can I Trust To Ensure No Greenwashing?
 Not Tested On Animals
The Soil Association - organic & natural
Vegan - no animal by-products
Our Stance?
We believe green beauty is best - packed only with natural and organic ingredients. We know that greenwashing is endemic throughout the industry, so we like to ensure it carries the appropriate certifications that we can trust. The Soil Association certifies all of our natural and organic skincare brands and Leaping Bunny certified. Apart from a small selection of our organic suncream from Green People - which contains beeswax - all of our natural and organic beauty products are suitable for vegans. You can shop happy in the knowledge that your natural beauty products are packed full of only the good stuff. Give it a go and see the benefits of organic skincare for yourself.
If You love Your Organic And Natural Beauty...
We have several go-to's which we like to stay up-to-date with - like-minded bloggers who serve up great advice and content weekly. For impartial reviews across a large number of organic cosmetics, we love to keep up-to-date with Ana Goes Green. Some great content and reviews which we find really useful when shopping natural beauty. We also love Inga over at Organic Beauty Blogger who offers excellent advice on everything from skincare, make-up, hair care and body care. Very resourceful and well worth a glance if you're on the lookout for your next organic beauty product. And not forgetting A Life Of Lovely who is genuinely overflowing with loveliness. With all kinds of great advice and tips from natural toothpaste, living green, and just about everything in-between!
|
Posted on April 20 2019