Elegant and Attractive Jute Table Mats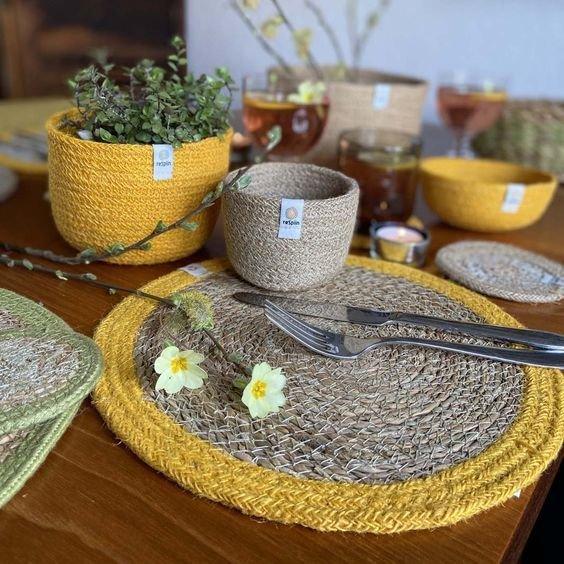 While we all want to undertake eco-friendly steps and make the earth a better place for us and the coming generations, the few options available sometimes makes this difficult for us to make the right choices. Fortunately, e-commerce stores are now bringing a wide range of eco-friendly options that can reduce our reliance on plastic and and instead promote sustainable materials. Jute, used in our jute table mat, is a natural fibre that offers many benefits to the environment during its growth and even after. When you want to buy the best looking table mats for your dining table and home from a leading plastic-free shop in the UK, the jute dining mats can be a viable and eco-friendly option.
How your Jute dining mats benefit the environment
Jute is a naturally grown material that absorbs a huge amount of carbon dioxide during its growth and production. Jute's growth reduces the level of carbon dioxide in the atmosphere and the adverse effects of global warming. Hence, the use of jute mats is a highly ethical and sustainable approach that is environmentally friendly and makes the earth a better place for everyone living on it. Jute plants can also trap or create the nutrients and enrich any soil on which they are grown. Therefore, their plantation is great for communities and farms that want to enhance the productivity of their fields.  
Hygienic and Safe
The leading manufacturers of jute mats (sustainable homeware) ensure that they only use quality production processes. The handmade products do not have any chemicals added to them that can be harmful to human health. These dining mats can be safely used for any of dining and serving purposes. The use of a jute table mat also prevents the undesired marks, spills, or residues that are sometimes left behind on our dining tables. The beautiful impression they make is always enjoyable and will be appreciated by your relatives, friends, and family members. 
Affordable Prices
The jute dining mats are made of organic materials and are incredibly affordable whilst also being a highly sustainable homeware. The same is also true for other kinds of products containing jute. Therefore, you can add aesthetics, elegance, and hygiene to your dining tables and standards at quite a low cost when you use the organic and zero waste jute dining mats.
The jute dining mats are available in a range of beautiful colours from natural dyes, and designs which can be purchased online at our online plastic-free shop in the UK.
|
Posted on August 01 2019