12 Sustainable Valentine's Day Gifts To Make 2021 More Eco Friendly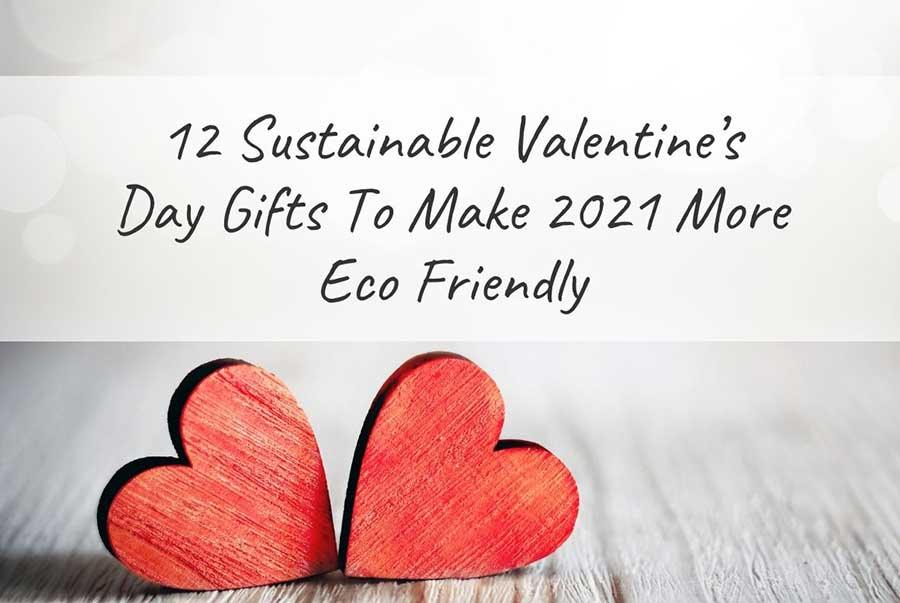 Valentine's day is just around the corner so hands up who is looking for sustainable valentines day gifts this year? Its that time of year for the memorable holiday often celebrated by the gifting of red rose bouquets wrapped in film and chocolates in nasty plastic wrapping. However, these gifting habits can have quite a negative impact on the environment.
This year, why not try and have a more eco friendly Valentine's day! That doesn't mean you have to skip the gifts – in fact, there are plenty of sustainable Valentine's day gifts for your significant other that we'd like to share with you.
1. Custom Artwork
Why not commemorate your love with a piece of custom artwork? Find a freelancer online offering these and let them create a one-of-a-kind piece for your significant other. This doesn't have to be expensive either, you'll find many wonderful options on websites like Etsy.
Nothing says I love you like a custom piece of art – you can give it both digitally and in print format. While the digital form is certainly more sustainable, having the custom piece of art printed is still significantly more sustainable than purchasing a bouquet and chocolates.
2. Fairtrade Chocolates
If chocolate makes up an inseparable part of the holiday for you, there's no need to give it up if you're looking to have a more eco-friendly Valentine's day this year.
Fairtrade chocolate is made from cocoa that's sourced under higher ethical and environmental standards, so that you can treat yourself and your loved ones without worrying about the environmental impact.
3. A Local Daytrip
This Valentines Day we're not able to splurge on an exotic vacation with thanks to a pesky virus who's name we're going to omit from this post – and it turns out that skipping it is also way better for the environment! If you and your significant other are avid travellers, why don't you plan a day trip somewhere local to you instead?
Whether a picnic by the lake or a hike in the mountains, you can marvel at the beauty of the nature that's just on your doorstep, and turn up the romance level with the bubbly and strawberries.
4. Living Plants
Instead of a bouquet of flowers, which can have a surprisingly high environmental footprint even when sourced locally this time of the year, living plants make for much better sustainable Valentine's day gifts. Plus, you're significant other is going to be able to enjoy them for much longer!
5. Eco-friendly Cosmetics
Natural soap scented with essential oils, sustainable face care or an eco-friendly bath bomb are just a few of the different plastic free toiletries you could gift your loved one this eco-friendly Valentine's day.
Pick their favourite scent and either order from their favourite sustainable brand, or look for small stores to support online or in your local area (waves hand).
6. Plant A Tree
The world needs more trees – so instead of carving your names into one, why don't you plant a tree instead? It's a beautiful way to celebrate your love, as you can come back to the tree and recall when you planted it, as well as a big help to our environment.
7. Master The Art Of Massage
Romantic massages were some of the most popular gift ideas before the pandemic closed down spas in most of the world – but who says you can't treat your partner to a massage at home? Learn some massage techniques online, order natural massage oils and turn the comfort of your home into your partner's personal spa.
8. Upcycle An Old Possession
One of the best ways to reduce your environmental footprint is to reuse the things you already own. For example, if you've done a lot of travelling together and collected a lot of t-shirts from different parts of the world, that you now never seem to wear, turn them into a blanket!
This is also a beautiful way to hold onto memorabilia from your past that has been broken or damaged, by giving them a new life.
9. Soy Wax Candles
Rather than paraffin candles which release harmful fumes into the air, or beeswax candles which can sometimes have some unethical practices hiding in the production process, soy wax vegan candles make for great sustainable Valentine's day gifts that are good for the planet, good for you and good for the animals.
Rather than buying from large companies, why not support a small artisanal store?
11. Get Them A Voucher
Who doesn't love to receive a Gift Card to later spend on some of our favourite things. Pick up a gift card for their favourite shop and let them go to town with some of their favourite 'feel good' purchases.
11. Loose Leaf Tea Set
Many of us still make our tea from tea bags, many of which contain plastic and release microplastics into our drink. Help your significant other live a more sustainable lifestyle and treat themselves to some high-quality tea by gifting them a loose lead tea set, perhaps with a personalised teacup! Or pick up one of our favourite reusable tea bags and find their favourite loose leaf tea to build the perfect set.
12. Book An Experience/Digital Course
With restrictions being tight right now, why not book them onto an experience or a new digital course for something they have wanted to do for a while? They can book their experience when things open up again or get straight on with their favourite lessons from online digital courses such as
Udemy
(our favourite one!)
|
Posted on February 04 2021