7 Amazing Benefits Of Switching To Natural Shampoo And Conditioner Bars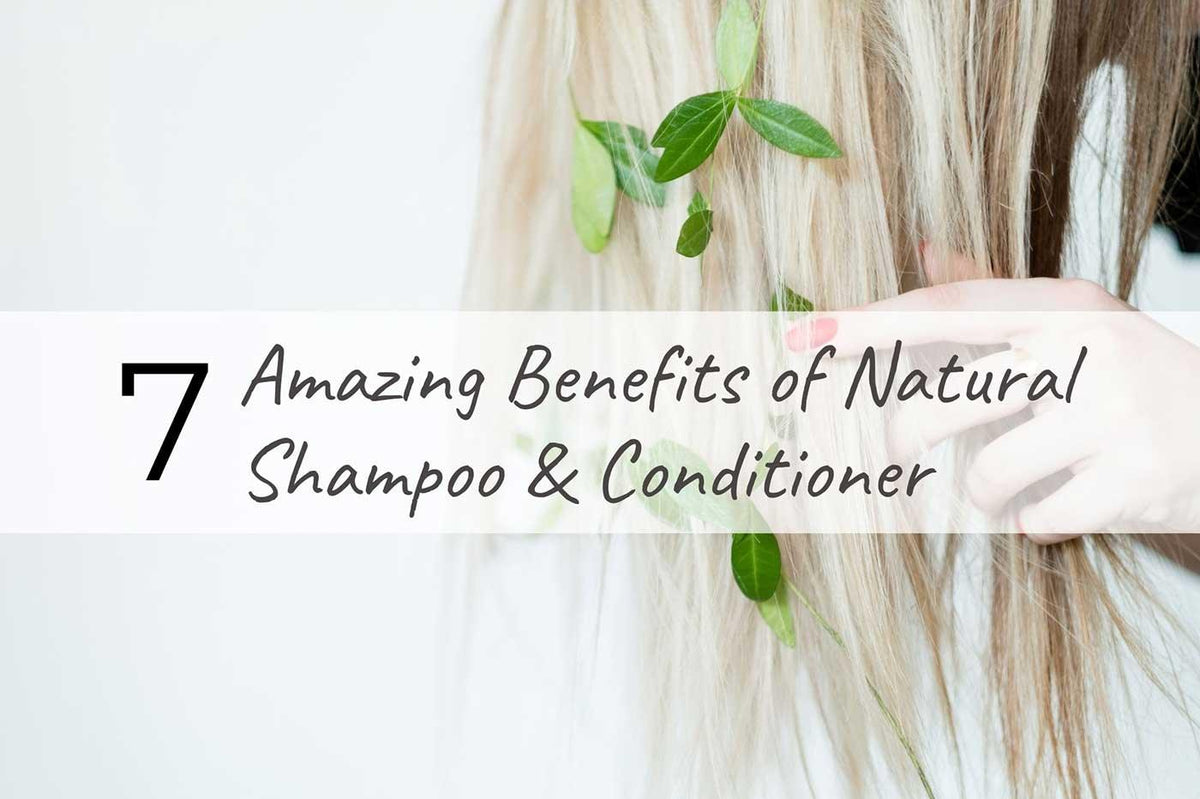 More shops than ever are now selling shampoo and conditioner bars and for good reason. If you're looking for the many health benefits these can have on your hair and scalp, then you have stumbled across the right post.
First, a little background on what the 'normal' used to be. We would walk down the supermarket aisles overwhelmed at the choice of different shampoo and conditioners. Little did we know back then was the number of suspicious ingredients within. With claims to restore just about any type of hair problem, it was still pretty normal to find unsatisfactory results from many of the products we'd put in our baskets.
Then it all changed as smaller brands made an entrance. These guys are producing natural shampoo and conditioner bars without the crazy amount of synthetic ingredients. And not just that, but that has managed to rid their packaging of the endless plastic waste that litters our planet.
But why do natural shampoo and conditioners perform so much better?
Its simple - they have learned to adopt the less is more approach. They have stripped their formulas of all the harsh ingredients that commercial brands use, and these are often the main culprits of dry and damaged hair in the first place.
So what are the benefits of using natural shampoo and conditioner bars then? Let's explore;
1). They are gentle on your hair and scalp
Unlike commercially manufactured products, natural shampoo and conditioner bars have gone back to the drawing board and removed all of those nasty, synthetic ingredients. These are often the root cause of dry and brittle hair and itchy scalps since they can wreak havoc on our fragile hair. From SLS, parabens, and everything in between, these harsh chemicals can damage our hair by stripping them of its natural oils and minerals.
Contrastly, the ingredients found in natural shampoo and conditioner bars do not contain any of these. Instead, they are packed full of hair and scalp-loving oils and minerals which are not only gentle but serve to repair and restore order to your hair again. 
2). Natural shampoo and conditioner bars are safe to use
It no secret that the skin is the body's largest organ. And when we use harsh chemicals on our skin and scalp, a portion of these chemicals are absorbed by the skin. Now if you already have sensitive skin, this can be a real problem and lead to further issues such as psoriasis of the scalp.
Simply by switching away from commercial shampoos that are pumped full of these artificial ingredients and chemicals, we can avoid any onslaught of dry skin and itchiness that can pursue. Not only that, but some of these harmful ingredients are known hormone disruptors and carcinogens which can trigger many different health issues such as cancer, altered reproductive development, and even asthma - all from being exposed to the ingredients in your shampoo!
By using only natural shampoo and conditioner bars, we can prevent all of these issues and put our minds at ease once again.
3). Reduce hair loss
Commercial shampoo and conditioners can alter the number of natural oils our skin produces. These oil glands can become irritated and this can lead to skin irritation and dryness. Consequently, our hair can become weaker and more brittle and become more susceptible to breakage.
We can alter the course of the health of our hair simply by switching to a natural alternative and eliminate the number of chemicals that penetrate our scalp. There are a number of useful ingredients present in natural shampoo and conditioners which can aid hair growth and recovery, and the most effective are coconut oil, grapefruit oil, and tea tree - remember to keep an eye out for these if you're looking to improve hair growth! 
4). Retains your hair colour for longer
Of course, not all hair dyes are created equally. Some are meant to wash out soon after application, whilst others are supposed to last years. But did you know that the sulfates used in commercial hair products can attack and eliminate your hair colour?
Short answer: sulfates are a type of detergent. Sodium lauryl sulfate (or SLS) is one of the more popular surfactants found in commercial shampoos and it is used to clean your hair of dirt and dust. Long answer: SLS was actually developed to wash clothes yet somehow found its way into our shampoos at the supermarket. Sulfates are harsh, and they make your hair strands swell up which causes the outer cuticle layer to open. At this point, natural moisturisers leach out.
Although this is an issue for everyone, it can be especially problematic for people with dehydrated hair such as those with color-treated or chemically-processed hair colours.
Want to keep your hair colour for longer whilst preserving the health of your head? Stick to a natural shampoo and conditioner bar instead.
5). They are environmentally friendly
Obviously, in the absence of plastic, we are already looking at a considerable improvement in sustainability. Instead, shampoo and conditioner bars are often packaged in compostable and biodegradable paper or card. Yes, plastic can also be recycled, but this takes a lot of energy to do these, which has led to the whole taboo behind just how much plastic is actually recycled.
Packaging aside, the same harsh chemicals in commercial products which enter our bodies through our skin enter the environment through our drains. These can cause a wealth of damage to our environment and our oceans. Luckily, we no longer have to deal with microbeads being flushed down our drains (banned on January 8th, 2018...thankfully), but there are still a ton of ingredients used that are toxic and can be hazardous to marine life.
Simply switching to a natural shampoo and conditioner, we can eliminate this thanks to the use of all natural ingredients, created straight from nature itself - nothing that our poor marine life have to worry about! As a good starting point, be sure the shampoo and conditioners in your bathroom do not contain sulfate, silicone, paraben, or phthalate.
6). You can wash your hair less as it won't become greasy so fast
Yes, you heard that right - by switching to a natural shampoo, you can actually end up having to wash your hair less (and save some money in the process). This is because the sulfates actually strip your hair of the natural oils your body needs, and silicone then takes the place of these oils.
It is these silicones that give the appearance of glossy, shiny hair which customers mention after using synthetic shampoos. Ultimately though, this isn't a natural process, and the silicone can end up blocking the natural oil production from evenly spreading across your hair shaft and scalp.
The silicone and sulfates that are responsible for blocking oil production that leads to greasy hair are found in natural shampoo bars. So by switching to a natural alternative, it restores the natural order of oil production, less greasy hair, and less time having to wash it. Which leads us to the last point...
7). They are as gentle on your bank balance as they are on the planet
Yes, you can walk out of the supermarket with a bottle of cheap shampoo, but the additional costs this carries can be high. How many other hair products do we have to purchase to remedy issues with frizz, dryness, or to maintain healthy coloured hair? These are all additional costs which might not even be necessary if we never used the harsh chemicals on our hair in the first place.
With a natural shampoo and conditioner bars coming in at all different price points, there will be a product out there to suit all budgets. But remember, with an organic and natural shampoo comes a life of greater simplicity thanks to the restoration of natural oil production again. This in turn will save your money down the line by eliminating the need for those fancy serums and creams in the first place.
Anyway, if a natural shampoo doesnt strip away the colour of your hair, you ont have to visit the salon as frequently will you! 
Choosing the best natural shampoo and conditioner bar
Its best to always check the ingredients. More often than not, fewer ingredients can actually be better. Make sure that you avoid those toxic chemicals we discussed, and opt for natural ingredients such as coconut oil, shea butter, aloe vera, tea tree and argan oil just to name a few.
We also stock a range of natural hair care products to suit most hair concerns. Our plastic free shampoo bars come suited for all budgets and made with natural ingredients and our natural hair conditioner bars will create volume and shine (and help you through any transition period!)
References:
https://www.colorwowhair.com/us/blog/sodium-lauryl-sulfate-sls-free-what-is-sulfate https://www.glamourmagazine.co.uk/article/beauty-product-toxic-ingredients-environmental-impact
|
Posted on March 17 2021