Top 3 Vegan Student Recipes To Make Your Heart & Soul Sing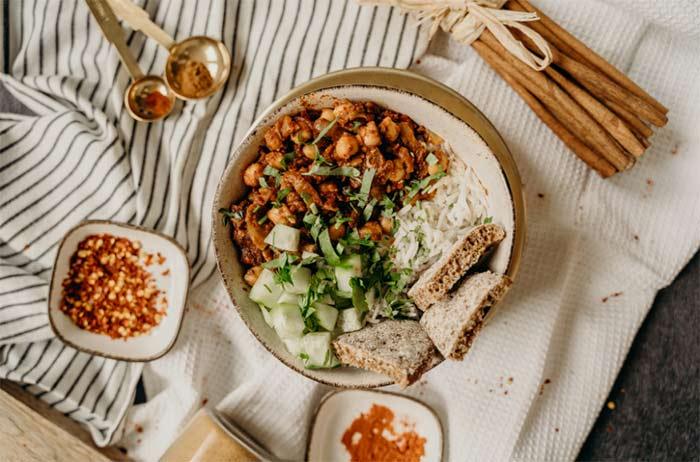 Sometimes eating vegan can be hard, especially when you're a student. It can seem like the world revolves around pesto pasta and salads some days but don't worry, we're here to help. We've put together a list of some of our top vegan recipes for students.
Whether you're in a shared flat or have a kitchen that's difficult to work in, we've made sure these recipes are easy to make, for any student. 
Vegetable Pasta Bake
This is a fairly quick and very simple recipe, to make it you only need an oven and an oven-proof dish!
Ingredients:
1/2 Red Pepper, (Finely Diced)

1/2 Yellow Pepper, (Finely Diced)

1/2 Courgette, (Finely Diced)

1/2 Small Onion, (Finely Diced)

200 g Dried Penne Pasta

400 g Tin Chopped Tomatoes

400 ml Vegetable Stock

2 tsp Italian Seasoning

Salt & Pepper

30 g Grated Vegan Cheese, (Optional)

1 tbsp Dried Breadcrumbs, (Optional)
Instructions
Preheat your oven to 200°C (180°C if you have a fan oven)

Put your diced vegetables and pasta into an oven-proof dish and give it a quick mix

Add the stock, seasoning, and chopped tomatoes to the dish and stir well so everything is coated and mixed properly

Cover your dish with either a lid or foil and bake for 25 minutes

Remove from the oven and uncover, give your pasta a good mix again then sprinkle your vegan cheese and breadcrumbs on top

Place back into the oven uncovered for 15 minutes until the top is nice and golden

Remove from oven and enjoy!

Sticky tofu and rice
Ingredients:
300g firm or extra firm tofu

6 tbsp cornstarch

2 tbsp cooking oil (peanut, sunflower, any high heat oil)

4 tbsp soy sauce

3 tbsp maple syrup

1 tbsp rice vinegar

1 tsp sriracha

1 tsp freshly grated ginger

2 cloves garlic, finely minced

1 tsp sesame oil

1 pack of rice

sesame seeds, sliced spring onion, lime wedges, red pepper flakes (optional)
Instructions
Drain and press your tofu, we recommend covering in a clean kitchen towel and placing it on a plate with a book on top (you'll have to start this a few hours in advance)

Slice your tofu into bitesize cubes and then toss in the corn starch, make sure you get each piece nicely coated as this is how your tofu will get nice and crispy

Heat some of your oil on high heat and fry the tofu. You'll want to get a nice golden crust on each side. To do this you need to flip the tofu with tongs or a spatula in the pan

In a bowl, mix together your soy sauce, maple syrup, rice vinegar, ginger, and sriracha

Heat this mixture in a pan over a medium heat and continually mixing as to not burn the bottom of your sauce. Continue this for a couple of minutes

Place your crispy tofu into the sauce mixture and mix to combine

Whilst this is cooking, prepare your rice as instructed (cook from fresh if desired but packaged rice will do fine in this scenario).

When ready, place the rice into your serving plates and top it with the tofu and sauce. If desired, sprinkle some sesame seeds, spring onions, and red pepper flakes on top and garnish with a lime wedge

Banana bread
Ingredients
4 medium ripe bananas

4 tbsp vegetable oil

4 tbsp almond milk

43g brown sugar

2 tsp pure vanilla extract

2 cup plain flour

1 tsp baking soda

½ tsp salt
Instructions
Preheat your oven to 180°C (160°C if you have a fan oven)

Line your loaf tin with baking paper or nonstick spray

Peel and mash the bananas in a bowl

Pour in the sugar, oil, milk, and vanilla extract and whisk together. Once they have combined repeat with the flour, baking soda, salt, and cinnamon. Only mix until combined as overstirring will make your loaf too dense

Pour your mixture into a loaf tin and top with banana slices if desired

Bake for 45 minutes uncovered, then remove from the oven and cover with foil

Bake for a further 10-15 minutes then remove from the oven and tin

Allow to cool before eating then enjoy!
It can be hard being a vegan
and
a student - often you'll be limited by time due to deadlines, and the types of shops near you may not be best suited to your lifestyle. Using these quick recipes that don't require any special ingredients will help you to maintain your sustainable lifestyle while studying at University and living in
the best Hackney student accommodation you'll find
, and provide you with some fantastic, hearty food. Happy cooking!
|
Posted on January 03 2023