Ethical Banking - The Good Guide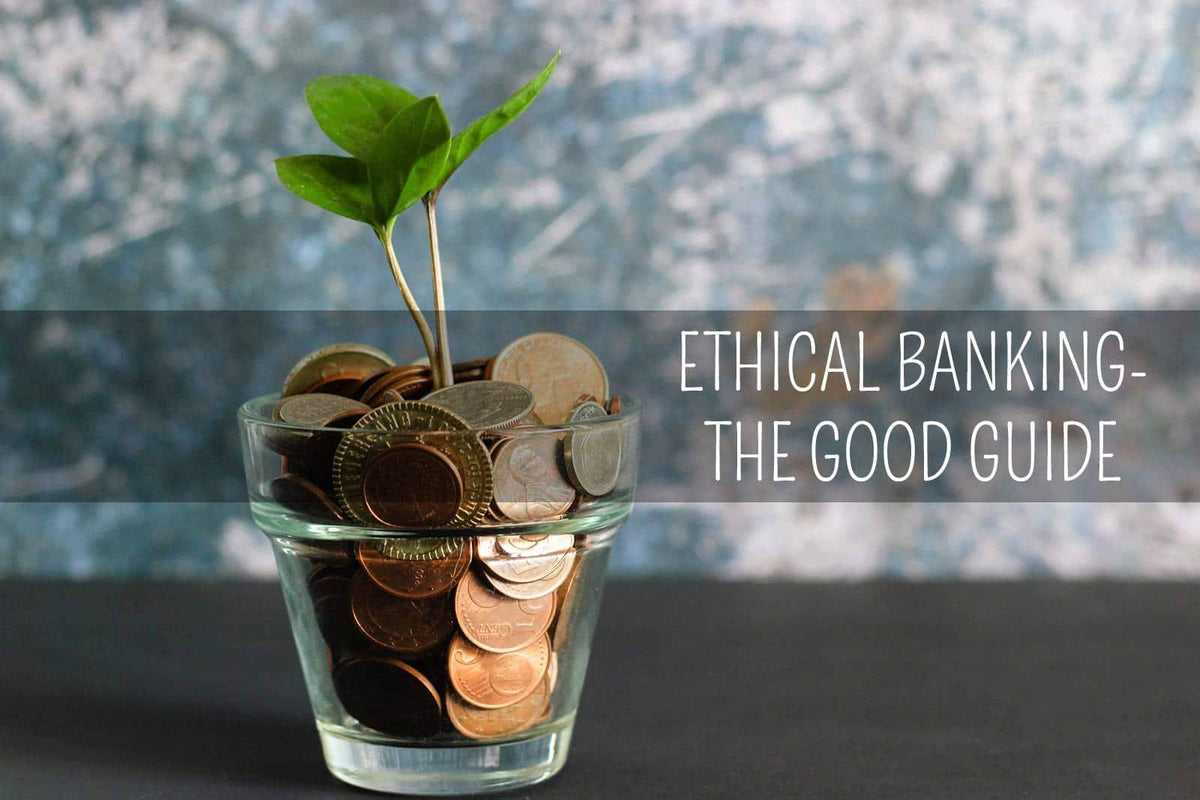 Everything you need to know about ethical banking, sustainable banking, and how to pick the best ethical bank
Being ethical and sustainable goes beyond the household and the way we consume, it is also part of the services and banking industries.
Banks may not sprout to mind when thinking of becoming more sustainable with your day-to-day lifestyle but sustainable and ethical banking is a factor that affects the world all over, and so we need to help raise awareness so we can make more informed and sustainable choices.
Here at Friendly Turtle, our aim is to get the world moving towards a more sustainable and environmentally friendly lifestyle. As you know, its something we are very passionate about here. So, here we're going to be covering exactly what it means when we talk about ethical banking and who you should be turning to for a more sustainable lifestyle.
What is ethical banking?
Ethical banking is a term relating to how banks use our money and what their environmental footprint impact is to our planet.
According to MoneyExpert.com, ethical banking is not just rejecting investments with negative impacts on the environment, they offer alternative means for your money to flow positively. This could mean investing in renewable energy as opposed to animal testing.
However, sustainable blogger Wendy from Moral Fibres notes that 75% of the UK have never switched banks: We need to bring communities together to drive sustainable change and generate a switch towards ethical banking.
Investment is not the only way banks can be considered sustainable and ethical. The Good Shopping Guide asks us to consider banks' contributions in tax as well as their carbon footprint. When banks remain online-only and have sustainable materials to make their cards, then their environmental impact is greatly reduced from the average high-street bank. 
What do banks do with our money?
Banks need to make money in order to keep afloat. They are also in the business of making money. Some of them offer high savings interest rates and provide us with incentives to join as well as free banking options such as debit accounts or cash withdrawals: but how do they make this money and can it be considered ethical?
There are lots of ways banks can make more money; there are simple revenue streams listed by The Balance including different bank account types, rewards accounts, credit cards, loans and mortgages. These all work within the lifestyle spheres of us as individuals. They directly affect us and the way we bank.
However, this does not cover banking costs of online management, advertising, real estate costs, or even staff wages.
Banks generate far higher returns using low-risk investments as noted by Besma from Curiously Conscious. These investments heavily fund unethical banking and have even been found to fund conflict zones in the Middle-East through arms dealership.
Does your bank offer sustainable banking options?
If we have a look at some well-known banks across the UK, we can see how sustainable their banking and investments are with a little search around google. If you're planning on switching banks, or whether you just want to know a little more about your current bank, we strongly recommend you spend a few minutes researching into the next financial institution you'll be leaving all of your money with- it's worth every second. But until then, here's a little insight from our own research, starting with the worst;
THE BAD
NatWest – We see their adverts promising to invest in independent businesses across the country yet fail to mention how the majority of their investments go towards arms dealing and military equipment.
Halifax – branded as 'the people who give you extra', they are a bank who provides free accounts and overdrafts to communities like students but are able to do so by using tax avoidance schemes and investing in military equipment alike
NatWest. HSBC – Not only following the footsteps of Halifax and NatWest with military investments and tax avoidance, but they also make notable contributions towards fossil fuels and fracking as the biggest issues faced for environmental health.
Barclays – Unfortunately, we turn back to unethical banking trends with this contender being the biggest investor in fossil fuels while also dealing in arms and military equipment.
THE GOOD
The Co-operative – A subsidiary of the Co-operative, their banking options have evolved and were the first UK high-street bank to incorporate consumer-led ethical banking. They currently invest in sustainable banking areas such as youth homelessness and human rights.
Monzo – A final example of a commonly used British bank is Monzo. They are a relatively new bank based in London, operating worldwide. Monzo operates solely online and through their app, drastically reducing their carbon footprint. They also pride in featuring recyclable packaging, organic produce and cycle-to-work schemes. 
What is the importance of ethical banking?
So now we know what ethical banking is, why banking investment is needed, and how our high-street banks are using our money. But, it's important for us to understand why we should bank sustainably.
As Monzo bank has aptly noted, it's our responsibility to minimise carbon emissions and take care of our planet. Choose.co.uk note that many high street banks invest in military defense, tobacco, animal testing, or the fur industry as well as fraudulent activities, so it's our job to stand up and make a move towards ethical banking.
Ultimately, we hold all of the power as consumers: we can't change the world on our own, be our voices will be heard when we come together and begin to boycott the worst offenders. They will have to change their ways or go bust.
Such boycotts have the chance to change banking policies not only on our own high streets but across the world. As Go Compare writes in their ethical banking article: sustainable banking brings the control back to the customer.
Who is the best ethical bank?
If you're wanting to go full-hero on lifestyle sustainability, there is one bank consistently ranking #1 for best ethical bank. This bank is the Netherlands-born Triodos bank.
Still a new business to the UK economy, they currently have 721,000 active customers over 6 European countries. They pride themselves in being able to offer ethical and sustainable banking options after having invested over £7 billion to projects across Europe benefiting people and the planet.
They offer smart-investments within global communities with current projects with Danone, DS Smith, and Kurita Water. This is all part of their mission to make the world a better place, especially with being the only bank recognising current climate emergencies by signing the Letter to the Times.
Not only will you be making a move towards ethical and sustainable investments, your lifestyle would greatly increase ethically; Triodos are an online-only bank massively decreasing the footprint of the corporation. Plus, they use biodegradable bank cards, too.
So, with that, when will you be contacting the best ethical bank to make a positive move for you and your planet?