7 Eco Friendly Electronic Ideas To Go Green In 2022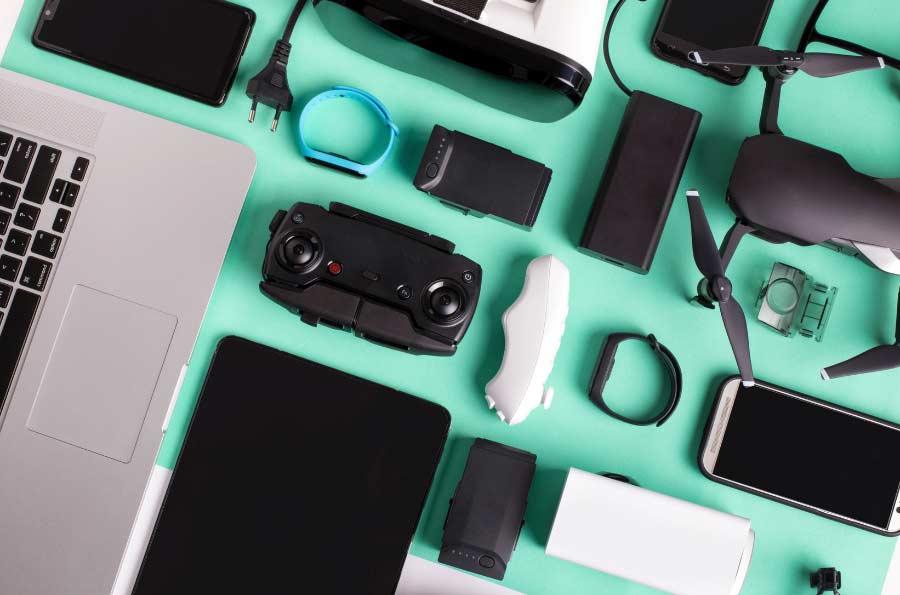 We know that electronic gadgets cause electronic waste when they are drained. This e-waste is recycled, reused, and sold again in the shape of other products in the open market.
Though, it is crucial to understand that this recycling process can be hazardous for factory workers as electronic products contain life-threatening elements such as lead, beryllium, cadmium, and many more.
We can reduce e-waste with the help of some eco friendly electronic ideas that don't harm nature and save the planet from hazardous elements making life easier for all the creatures on the earth.
In addition, we can get power from the sun to charge electronic gadgets and also play a key role in saving money for consumers. Here are some of the top used and popular eco-friendly electronic gadgets that you can use to limit the e-waste and protect the environment.
Eco-friendly Laptop Computers
The laptop is a highly used electronic product in our life. Whether you are at home or in the office, they are necessary for everyone. When consumers wear them out, they can be recycled, as they have health-damaging elements that also harm the environment. So buying eco-friendly laptops can be a perfect option for you that consumes less power and does not release lethal components during the recycling process.
Many USA computer brands like Apple, Dell, and Lenovo and Asian companies like Asus and Fujitsu are producing sustainable laptops considering the benefits of green products in today's world. These eco-friendly laptops use biofuel, OLEDS, and eco-friendly batteries with methanol and natural gas, which make them nature-friendly. These laptop computers are less hazardous to our planet, ecosystem, and the environment.
Water Safety with Water Pebble
When we take showers, we waste a lot of water. Water Pebble is an electronic gadget that assists us in reducing the wastage of water. To manage and limit your water usage, you can place this product near your water tub or drain. When we use an additional amount of water, the Water Pebble will notify you with the indication of red light. Thus, this gadget helps you in saving power and water consumption.
In addition, electronics manufacturers can please their eco-conscious customers and show their care about nature protection with the use of eco-friendly packaging boxes to encase these electronic products. The addition of green electronic gadgets with sustainable product encasing cartons can double the effectiveness of their sustainability.
Power Safety with Green Chargers
Another great eco friendly electronic idea is green, automatic chargers that are used for laptops and phones. They check the need for charging in these products. The green charging gadget starts charging the device when the device's battery is low. After the complete charging, the charger will stop charging automatically.
This way, you can save energy consumption efficiently. This product saves more than 80%. Belkin creates green chargers under its Conserve brand name that help users save power consumption and nature and save money simultaneously.
Solar Charger Banks - for Multiple Devices
Solar chargers are also a new technological invention in today's world. Super advantageous solar power banks can easily charge entire laptops and a phone. 
Wifi-Based LED Bulbs – Philips Hue Bridge
LED (Light Emitted Diode) Bulbs are eco-friendly as well as use less energy to light up things. You can switch them on and off when you desire. They also have an option to change colours, and brightness, which are their prominent additional features and plus-points.
An example of these LEDs is Philips Hue. In addition, wifi-linked LEDs are another feature that works on the basics of IoT (internet of things) technology. With Philips technology Hue Bridge you can link up to 50 LEDs to your wifi device. That is a highly cost-effective as well as energy-saving option for your home energy consumption.
Sustainable USB Cell Rechargeable Batteries
Many companies are producing eco-friendly USB cells. Moixa Energy Ltd is investing in green cells to replace the alkaline batteries that are harmful to nature. These batteries are rechargeable, and you can charge these batteries with your phones or laptops easily. In addition, these cells look like common alkaline batteries, but a USB plug is an option that distinguishes them from other cells. The USB plug can be connected with a USB charger. These batteries are charged completely approximately after 5 hours.
Furthermore, it is an advantage of sustainable USB cell rechargeable batteries that they can be reused many times, and they don't need any adapter or cable to charge products. 
Innovative and Sustainable Wooden Gadgets
Nowadays, many brands are producing biodegradable gadgets that have wooden panels. They look enticing and don't negatively impact nature. Wooden watches in custom boxes made with mahogany wood mixed with steel components are produced by Original Brand. That is an example of these eco-friendly products that don't have any plastic material that is complex to dispose of in the soil.
This company plants a tree for every watch they sell. This way, they play a vital role in increasing the greenery on our planet, even though they use watches that are also made with wood. This way, for example, they get one piece of wood from nature and return it, multiplying them in many numbers. That is a good initiative and a nature-saving idea for product manufacturers.
Final Thoughts
Consumers are now more conscious about environmentally-friendly electronic products as well as their custom packaging boxes. They prefer to get products stored in eco-friendly custom boxes when shopping. Furthermore, different types of green electronic products, wearable and non-wearable, play a vital role in protecting nature from hazardous elements.
The production of eco-friendly products is an innovative initiative by brands that can boost branded product sales, enhance their authority in the retail market and satisfy their customers simultaneously. Drop a message below if you found this eco friendly electronic ideas post an interesting read!
|
Posted on September 13 2022