5 Ways to Repurpose Old Furniture into Unique Garden Pieces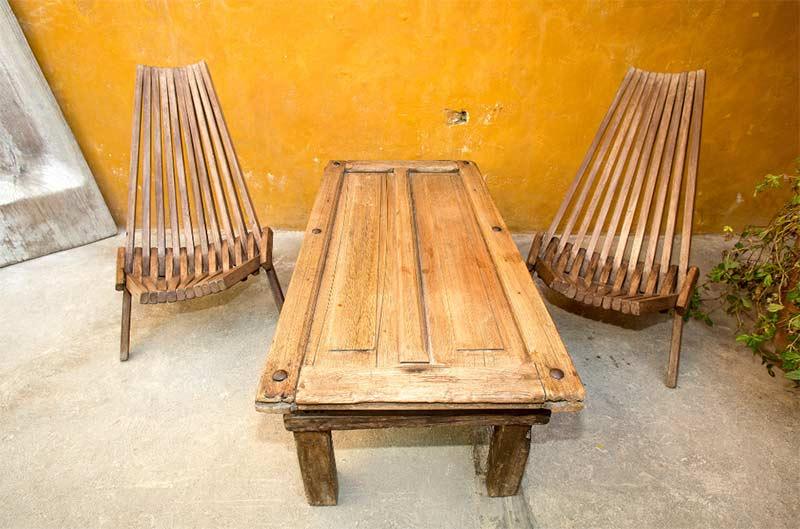 Are you looking to spruce up your garden and make it more aesthetically pleasing? It's easy; just add some new decor or garden furniture. But what if you don't want to spend money on new garden furniture? Chances are, you already have old pieces lying around.
What's the point of buying new ones when they will be hidden away in storage until next year? Instead of throwing them away, why not repurpose them into something useful and unique?
Reclaimed furniture has become an increasingly popular choice for home furnishings as it is a stylish and eco-friendly option. Not only is reclaimed furniture stylish, but it also has a lower environmental impact compared to traditional furniture made from new materials.
By reusing existing materials, such as wood, metal, and fabric, reclaimed furniture gives new life to existing items, reducing the need to buy new furniture and the amount of waste sent to landfills.
They also have a unique character, making them a standout choice that is sure to impress. Reclaimed furniture is a great way to make a stylish and sustainable statement in your home. Plus, you may even save money in the process.
Here are some ways to repurpose old furniture into unique garden pieces:
Turn a dresser into a planter:
With a little bit of imagination and a touch of creativity, you can transform an old dresser into an outdoor planter that adds a splash of colour and vibrancy to your garden. Remove the drawers, replace them with stylish pots or baskets filled with lush plants and flowers, and use the top as a display area for more plants or as a workspace to get your hands dirty. Moreover, you can repurpose the dresser by replacing the wood with a large shelf or adding slats to the front of the dresser to create a unique, decorative planter.
Use old chairs to craft trellis panels
If you have old or damaged wooden chairs that are past their prime, don't throw them away just yet. Repurpose them as a garden trellis for climbing plants like vines or morning glory, or use the seat of the chair as a planter for smaller plants. You can even add a bit of life by repainting them again. There are endless possibilities with a little bit of creativity.
Transform an old wooden table into a potting bench or pergola.
Repurpose your old or damaged table into a potting bench, which is ideal for growing herbs, flowers, and even organic vegetables in your outdoor space. All you need to do is remove any drawers or shelves, add a wooden top, and use the legs to attach hooks. You can place them in a sunny location to get the best results.
A pergola is perfect for hanging baskets or flower pots while also providing shade in your garden. Besides, it can also improve the aesthetics of your garden. You can create an inexpensive and easy-to-maintain pergola by installing decking material over an old or damaged table. Use an anchor or screw to anchor the table to the decking. You can also add decorative elements to your pergola, like plants or lighting, for a personal touch.
Make a garden bed from an old headboard:
If you have an old headboard that you're no longer using, why not put it to good use and turn it into a one-of-a-kind garden bed? You can build the sides of the bed with a few planks of wood, fill it with soil, and begin planting your favourite flowers and vegetables. Not only will this give your garden a unique and stylish look, but it's also an economical way to get the most from your garden. You can use the headboard bed for planting your flowers or vegetables, and you can also use it as a planter when you need a smaller workspace. With a little bit of creativity and effort, you can turn an old headboard into something that can bring a lot of beauty and life to your garden.
Purchase reclaimed furniture from a reputable source
If you don't have old furniture or don't have the time to repurpose them, you could consider purchasing reclaimed furniture from a reputable source. This is a great and eco-friendly way to bring some personality into your home without having to buy a new one. Not only can you find unique pieces full of character, but you can be sure that you're making a sustainable choice.
When choosing to purchase reclaimed furniture, it is important to find a reputable source. You will be supporting businesses and companies that are committed to sustainability and that use timber products that are sourced ethically for the purpose of making garden furniture.
|
Posted on March 09 2023