Things To Do In Isolation This Spring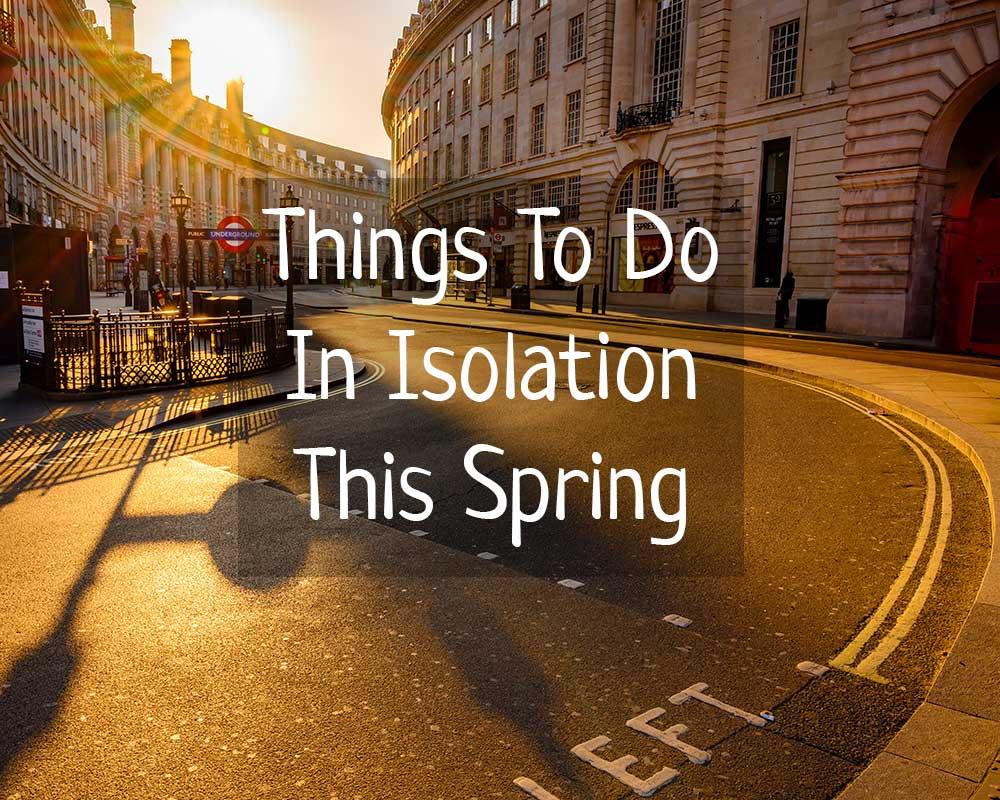 Looking for eco-friendly and sustainable things to do in isolation this spring? Well, we thought it was about time we produced a list of lovely activities we can all do during this pandemic to help keep our minds busy and our planet green.
We've all likely got a little more time on our hands right now. More time to try our hand at cooking new meals, digging out toys for the kids, learning and teaching new skills, or getting green-fingered if you're lucky enough to have some outdoor space.
So let's not waste any more time. Things to do in isolation and ideas to inspire you to reduce, reuse, and recycle. And although they might not add up to a radically greener home, these small actions can all help to make a huge difference for generations to come.
Kitchen
So we all have a little less spare cash these days, and we're restricted to supermarket essentials during lockdown. So what do we do? Well there are still loads of bits we can do in the kitchen, using up old cupboard ingredients and reducing our waste
Reuse Leftover Food Scraps
Food is expensive after all, so why not re-grow your veg by planting potatoes, ginger, pineapples, and lettuce hearts. A simple search online and you will find that so many of our leftovers can be sprouted and then potted at home. No outdoor space you say? Pop them on a windowsill and literally reap the fruits of your labor. Oh, and don't throw out cucumber skins or offcuts from berries either - pop them in a jug to flavor your water in the fridge.
Reuse Glass Jars And Fall In love With Them
We literally have a kitchen filled with glass jars in different shapes and sizes. They can be used to store leftovers, and it was only this week we used a new olive jar to shake up some French dressing in since their liquid-tight as well. Give them a thorough soak and clean and remove the stubborn sticky labels with a little vegetable oil and scourer. Once clean, use them to store pens, use with tealight candles, makeup brushes, and even the taller ones can make for a lovely vase. The possibilities are endless so will keep you going when you're looking for things to do in isolation.
Grow Your Own Avacado Tree
Yes, we mean it. You'll find you will become obsessed with the process - trust me. Suspend an avocado stone over a jar full of water with 4 cocktail sticks, and keep that jar full. Leave it someplace sunny and you will see the stone split. Things will look a little messed up for a while, but keep up with the process and you will see the magic happen. New life! Try it for yourself and see
Create Your Own Stock
Vegetable scraps make for a create stock, so never throw them away. Keep al your scraps in a bag or jar in the freezer, and when it's full, boil them all up. You can use onions, mushrooms, celery, carrots, leeks, and just about any wilted green veg. It's worth noting, there are some veg that doesn't make for a good stock, so avoid potatoes, green beans, courgettes, and definitely not beetroot (although would make for a lovely colour, I'm sure)
Lockdown Masterchef In The Making
What a fantastic time to try your hand at creating new, tasty, and nutritious meal prep. Start learning the basics behind a plant-based diet and experiment with how different foods make you feel. Ditch the jarred sauces from the supermarkets and play around making your own. It's a great way to cook and bake without the many mysterious additives and allergens often found in our foods. And even when you think you're short on baking ingredients, you can still bake a cake.
Create Plastic-Free Cleaning Products
Create your own homemade cleaning potions- another simple thing to do in isolation these days. If you have a few of the basic ingredients such as white vinegar, lemons, essential oils, bicarbonate of soda, and boiled water, you are well on your way. Get online to find the many different recipes you can make for home cleaning products, from window cleaners and detergents to washing up liquid and toilet cleaner.
Repot Supermarket Herbs
Those beautiful potted herbs we buy from the supermarket struggle to last more than a couple of weeks and never regrow, but why? Because they pack multiple plants into one pot which means they're fighting for those much-needed nutrients and light. They struggle to survive, let alone grow. Wet the soil and gently remove it from the pot ad you'll be able to carefully tease the roots apart into their own individual plants. Then you can repot them over two or three more pops and give them a little top up with some peat-free compost. This will give them all the room they need to not only survive but to thrive.
Living Room
Since we're all spending so much time indoors at the minute, let's make them feel as cosy and well-ordered as we can. Just bear in mind that if you have young kids, you might have to adapt your ideas slightly to get them out of reach.
Upcycle Wine Corks Into A Pinboard
Depending on just how much wine you like to enjoy, it might take a while before you have enough corks for the size you need - but cherish every single one of those corks! Ask your friends to save theirs for you too, and before you know it, you'll have enough for a wonderful pinboard. A little tip - try cutting your corks in half to increase their coverage.
Reflect Light Through Upcycled Glass Bottles
Create a feature on your window sill with an upcycled bottle or two. From wine bottles, beer, oil...they will all reflect light beautifully as light passes through them. Add a fairy light or use with a candlestick to create a world of wonderful light features around your home. Even when we're not looking for things to do in isolation, we still love to play around with the many uses of glass bottles.
Fall In Love With Houseplants
Why not introduce some literal 'green' into your home by adding some air-purifying plants? Not only do they look fab, but they help to filter the air and look great in any room. Just don't forget to give them a drop of water from time to time!
Follow Some Cool Blogs
There are ample blogs out there brimming with cool and interesting info...just like ours ;)
Consciously Inspired is one we've been reading recently and my very own travel blog at Better Life Design!
Bathroom
You're not alone if cleaning your home is one of your least favourite things to do. So make the process as simple as possible and set aside a little bucket full of the cleaning bits you need in your bathroom.
Repurpose Old Towels
We've all got a few old towels knocking around which never get used, and these are immensely reusable with a little creativity. If you're looking for things to do in isolation, start to transform them into washable, reusable face pads (saves you buying reusable pads too), or cut them up and use them as cleaning cloths and bathmats. You could even cut them up into small pieces and use them as nappy or pantyliner filler. Hand sew the edges if you don't like the ragged look, as they will fray when you cut your fabric up.
Eco-Friendly Glass & Mirror Cleaning
Don't ask us why, but old newspapers do a great job cleaning up your mirrors and shower door in your bathroom and leaves a streak-free finish every time. So keep a handful set aside in your new cleaning bucket for dust and residue-free cleaning.
Sustainable Periods
Washable pantyliners are growing in popularity each day, so why not try and make your own. Create and colour and style you want, and you can even add a popper button from an old duvet cover. Get online and have a look at the many ways people are making their own. Not feeling that creative? You can still green up your period with a switch to a silicone menstrual cup to reduce your reliance on tampons, albeit not something to do in isolation.
Bedroom
Learn To Fold Clothes Like A Boss
Let's face it, there isn't much thrifty shopping in local charity shops right now, so learn to love the clothes you have all over again. Learn how to fold and organise your clothes like a pro and start to take pride in this simple pleasure. Not only will it make your clothes last longer, but allows you to appreciate them more. And while you're at it, why not get the kids trained up on it too.
Rethink Your Sustainable Wardrobe
We all know fast fashion is disastrous for our planet, and more of us are becoming aware of this. So, what better time to start planning a green wardrobe going forward. Understand what your clothes are made from - cotton, polyester, mixed synthetics, and know what that means for the environment. Educate yourself on durable and sustainable materials and prioritise plant-based fabrics and organically grown cotton. Pledge to buy just one or two new items a month, and feel good about the purchases that you make. Oh, and don't forget to wash your polyesters in a bag to reduce microplastics leaking into our waterways.
Repurpose Those Old T-Shirts
If you're looking for things to do in isolation, then reach out to all those old t-shirts buried in the wardrobe. Shake out the webs and repurpose them into cleaning rags for the kitchen, or upcycle them into facial pads as we mentioned above. Or, if you're feeling creative, try your hand at some hand embroidery and give your t-shirts a new lease of life.
Did Someone Say Fashion Shoot?
Dig towards the back of your wardrobe and you've likely got some incredible items you've only ever worn a handful of times. Pick a theme and style your household to suit. Or have a Zoom party with friends where you all dress up in your craziest items. Just please don't forget to tag us in any Instagram posts if you're doing this will you!
Kids Playroom
Time to nose dive into the many different uses of recycling and bring Art Attack (how good was that show...) firmly into the twenty-first century. How do chemistry lessons leaching kids how to make natural home cleaning products sound or the many uses of repurposing old jars and glass bottles.
No Kids Room? Then Start Making Eco-Bricks
Ok, so you don't actually have to build a kid's room with eco-bricks but educate kids young to fill plastic bottles with unrecyclable wrappers such as crisps, biscuits, and any other cellophane bags from the supermarket. Remind them to wash and dry the plastic first though before filling the bottles. There are loads of hubs now which are collecting eco-bricks for projects around the world - all you have to do is drop them off.
Recycled Craft Ideas
Empty tin cans in the kitchen? Turn them into tin can telephones or waking stilts for the kids (taking care of any sharp edges). Plastic bottles can be transformed into bowling pins. A cereal box can be turned into a giant dice. The possibilities are endless when you start searching online. Pinterest is a great resource for us when we're looking for crafty things to do with waste. So remember, before you toss something into recycling, see whether you can transform it into something with the kids first.
Learn To Draw
Struggling to think of things to do in isolation with the kids that's original and fun? We know the feeling. This one's not so much a sustainable activity but one we know the kids will love, so it's definitely worth a mention. Draw With Rob is an online drawing tutorial and he does a fantastic job educating kids on how to draw. If your kids like to draw, then they will love to draw with Rob.
Outdoors & Houseplants
No house can ever have enough plants. We love rooms filled with air-purifying plants...they make us happy. And although these can be hard to come by at the minute, there are still plenty of great ideas to green up your fingers.
Plant Those Seeds!
If you have any seeds laying around in the garden shed, plant them. If you haven't, why not see whether you can pick some up online. We found a great tutorial on how to make an origami pot out of old newspapers, and they're just perfect for planting seedlings. And what's best is you can plant the paper pot straight into the garden as the paper will naturally breakdown very quickly in moisture. No good at origami? Eggs boxes also work great for planting seedlings in.
DIY Home Compost
If you haven't already read it, we've already written a detailed post about home composting. If you have a bit of outside space and a few basic materials, then you're set to start your own home composting. There are loads of cheap and easy DIY compost bins available online, and they are an incredibly amazing way to help reduce your household waste.
Foraging For Berries & Elderflowers
Elderflower is already blooming in places, and berries will shortly follow. If restrictions allow and you're lucky enough to live close by a forest or park, get outside and get foraging. Elderflower makes a wonderful cordial and is perfect chilled on a warm summer day. Can't go foraging? Make the most of seasonal foods by learning a few new recipes for preserving them. That way, you get to make the best of seasonal produce all year round.
Thats It For Our Things To Do In Isolation!
So this was by no means an exhaustive list, but instead, there's a lot of focus on becoming more 'circular' in our use of everything. We all throw out lots of things every week without much thought, but as one of our favourite quotes by Annie Leonard goes, "there is no such thing as away. When you throw something away, it must go somewhere".
That said, this whole process of reducing waste should be something to enjoy. Don't be too hard on yourself, as these are exceptional times we are in right now and it's not the time for perfectionism.
You might be experiencing a lot of stress, grief, and worry during this time. Or this quiet time might be giving you time to pause and contemplate things. Possibly create new habits, implement new ideas or even find a new job.
However you're coping during these extraordinary times, know that you're not alone. Talk to friends and family, stay active, and most of all, stay safe. And remember - it will all be over very soon :)
|
Posted on April 29 2020