The Ultimate Sustainable Travel Toiletries Guide For 2021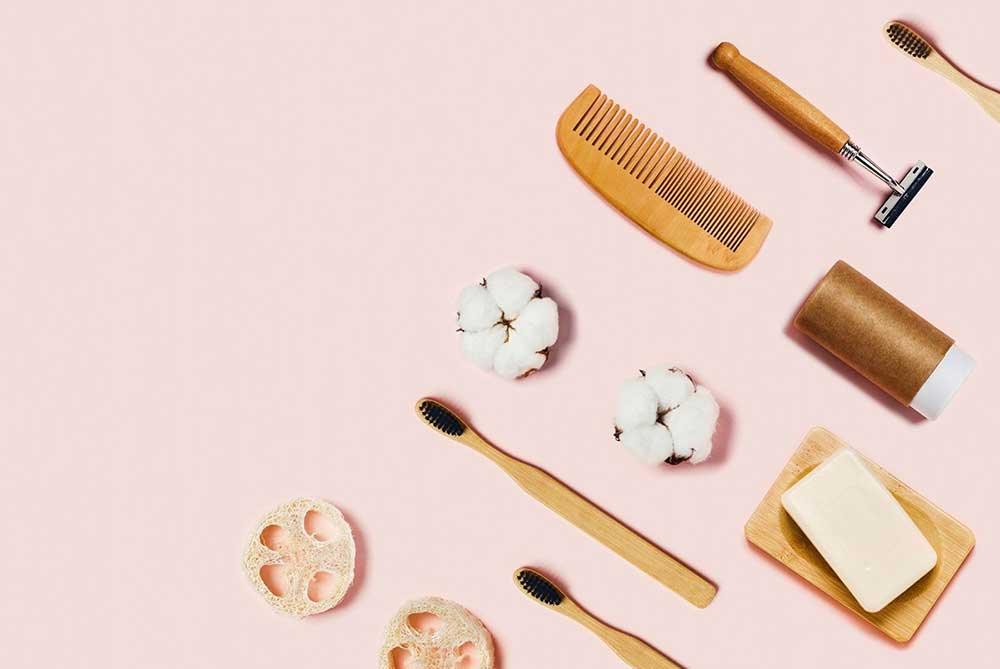 Heading out on vacation this summer? You may be wondering what the best way to go about packing sustainable travel toiletries is.
Worry not, we've got the ultimate sustainable travel toiletries guide ready in time for summer to help give you some ideas and inspiration. If you've got some of your own personal tips and tricks that you'd like to share with others, like learning a few eco-friendly words in the local language, we'd love to hear about them in the comments!
Repurpose containers for your liquid products
Rather than taking a whole bottle of lotion, shampoo or mouthwash with you, repurpose some old containers such as small jars, liquor sample bottles or old face cream containers to pack small for your journey. It's as easy as transferring as much product as you'll need into the container and leaving the rest at home.
That way, you can avoid having to buy anything you don't already own for your toiletry bag whilst also finding a new use for items that you might have thrown straight into the rubbish bin...the ultimate sustainable travel toiletries!
Choose solid alternatives
One of the biggest issues most people face when packing their sustainable travel toiletries is that 100ml limit on liquids. Thankfully, there are some great sustainable and equally practical solutions – toiletries in solid form. This way, you will not have to worry about liquids in your carry-on at all and you'll be able to get through security much faster.
Instead of regular toothpaste, pack some toothpaste tablets. Rather than in plastic, they come packaged in glass, cardboard or metal and when you're on the go, it's very easy to pack only as many tablets as you need for your journey. Besides being eco-friendly, these can significantly downsize your carry-on toiletry bag as well.
Another great product for flying are Beauty Kubes – small, individual shampoo cubes which can also be used as a body wash. Similarly to toothpaste tablets, you'll only need to take as many as you'll use on your eco-friendly travel adventure, which makes everything a whole lot easier.
Aside from these two products and similar alternatives which make it easy to take only what you need with you, any solid product – such as natural soap bars, plastic free shampoo bars, soap on a rope or lotion bars – will make your eco-friendly travel a whole lot less stressful. 
If space is a concern, you can cut off a piece of these larger bars to take with you while travelling, so that you don't have to take the whole product with you. While you can't exactly do this with products such as toothpaste, it's a great hack to use for some other sustainable travel toiletries. 
Pack together and share
Unless you're travelling solo, you'll want to avoid packing the same toiletries as the friends or family members travelling with you – you can always share! If you're buying any new products for the journey, pick neutral scents anyone may enjoy and share them with each other.
Why would you each bring your own bag of toiletries, when one to share can take care of most of your hygiene needs while travelling? Just make sure you're not sharing a toothbrush!
Don't forget some natural deodorant
If you're getting on your eco-friendly travel adventures or if you're heading somewhere warm, don't forget some natural deodorant! You wouldn't want to get to your destination and have to buy conventional deodorant full of harmful ingredients, especially if you're already used to natural cosmetics.
Natural deodorant comes in solid form, which makes it one of the easiest sustainable travel toiletries to pack! Pick your favourite scent or give an unscented crystal deodorant a try. You'll also be avoiding all of the harmful ingredients in conventional anti-persperents as well!
Don't forget to tan safely
Whether you're heading to the tropics or somewhere chilly, you'll likely be spending a lot of time outdoors. Don't forget to pack some zero waste, plastic free sunscreen to protect your skin. Even if you're not laying on a beach towel in a swimsuit, your skin needs some sustainable sunscreen to stay protected from the UV rays!
However, if you are tanning at the beach and heading for a swim, there's another consideration you'll want to pay close attention to – the ingredients in your sunscreen. Choose a sunscreen that is reef-safe, which typically means that it does not contain oxybenzone and octinoxate – two chemicals shown to be responsible for coral bleaching.
Just a word of caution before you make the purchase. The term reef-safe isn't regulated and enforced by any organisation, which means that brands can use it freely, without supporting this claim. Thankfully, checking if a sunscreen is really free of these two chemicals is as easy as reading the ingredient list once you know what to look for!