4 Sustainable Home Improvement Ideas - How To Add Value To Your Property Sustainably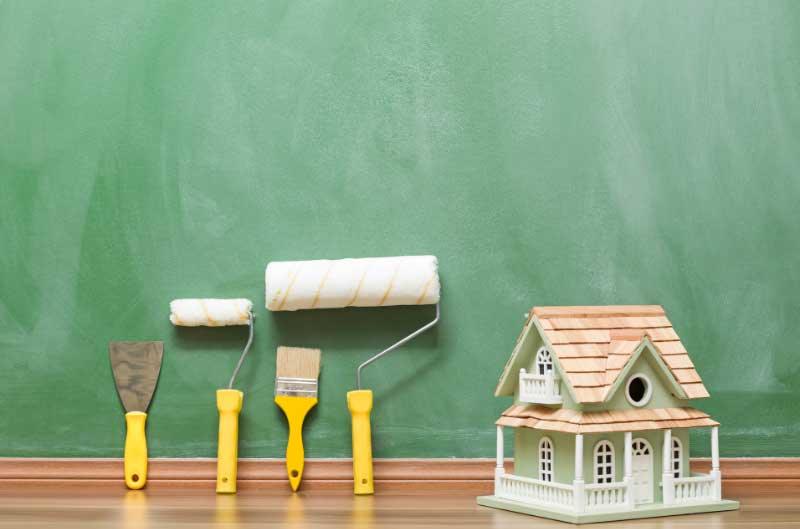 Governments across the world have made serious strides towards a more sustainable planet that will help protect our environment and ecology for the future. Every homeowner has a responsibility to make home improvements that add sustainability to their homes and to consider the impact on the environment of the work.
With a more sustainable future in mind, here are some sustainable home improvement ideas anyone can make that can add property value and desirability, as well as protect the planet for the future.
1. Eco-Friendly Home Extensions
The highest value home improvement is an extension. It gives the home extra internal space and can convert a two-up-two-down townhouse into a four-bedroomed suburban mansion. Building work has a big impact on the environment, both locally and on a global scale. If you plan any kind of extension to a property, you should make sure you are doing it in an eco-friendly way.
Your habitat may also be a habitat for one of the UK's most precious and endangered species. Bats are a common sight in the nighttime British sky, and they often roost in and around old buildings and established woodlands.
Before demolishing an old building or adding an extension you may be required to have a bat survey completed to ensure you are not disturbing the home of a group of bats. They can live in urban areas as well as rural areas.
Batsurveys.co.uk can conduct both daytime and nocturnal inspections to assess your property. Their experts are who you should turn to if you need a bat survey in London. They have years of experience in urban, suburban, and rural bat surveying and can help you to make sure your plans will not be delayed by the discovery of a bat roost.

2. Generate Your Own Power
By far the most popular eco-friendly and sustainable home improvement, and the most cost-effective, is adding home solar power generation to the property. Not only does it add value it also reduces regular outgoings and can even provide a revenue stream. Excess energy produced by the solar array can be sold to the national grid, giving you credit on your energy bill or a cheque in the post.
This investment also future-proofs your home. You may not plan on selling your home and cashing in on your equity for many years to come. In the very near future, home solar panels are going to become one of the most desirable features for prospective buyers.
By investing in this feature now, you are making your home easier to sell in the future while also providing yourself with a useful home improvement that can help cut your energy bills and your carbon footprint.
To make the most of this addition and maximise its value and desirability, you should look at pairing your home solar panels with home battery storage. This technology allows you to store energy generated during the day to use a night.
This has a huge impact on your energy bills and gives your home cutting-edge tech that will make potential housebuyers even more eager to get the keys to the property. New data from The Eco Experts Home Energy Survey has revealed that over two thirds of Brits would now buy a property with solar panels on.
3. Sustainable Home Heating
The cost of natural gas has skyrocketed in recent years and shows no signs of coming back down again. This is due to many factors, including international conflicts, but the pressure to switch to sustainable and carbon-neutral power and heat sources is also driving these price increases. Most homes in the UK use natural gas for home heating, and this is going to have to change if we are going to live more sustainably.
Heat pumps have become the go-to modern home heating solution for most families. These systems can be either ground-source or air-source systems, depending on where you live and which suits your home best. Ground-source heat pumps draw heat from beneath the ground and use it to warm your home. When used alongside modern insulation and double or triple-glazed windows, these systems can massively reduce your carbon footprint and take natural gas off your energy bill for good.
Air-source heat pumps draw fresh air in from outside the home and use a low-power electric heat exchanger to warm the air and pump it throughout the house. This is a much more energy-efficient home heating alternative to boiling water and pumping that through pipes and radiators. Both of these modern heating solutions add value to a home, reduce regular outgoings, and make a home desirable to buyers in the future. 
4. Add An Electric Vehicle Charging Point
If you do not own an electric vehicle, this may not be the best investment, at least in the short term. This home improvement makes your home more desirable and practical for EV owners, and in the future, there will be many more families with electric cars. Even now, electric cars are among the best-selling new cars on the market, and the secondhand EV market is just getting started.
Owning an electric car is a much more environmentally responsible and sustainable alternative to petrol and diesel-powered vehicles. By 2030 these types of vehicles will no longer be available to buy new, and all brand-new cars in the UK will be hybrids or EVs. Hybrid vehicle sales will also cease, but not until 2035. Sooner or later you are going to be driving an electric vehicle, so it may be worth making the investment now before demand increases and pushes up the price.
Using solar power with battery storage to charge an electric vehicle can drastically reduce the carbon footprint created by your personal transportation. Solar-charged EVs are completely carbon neutral and the most sustainable way to travel. You can get ahead of the upcoming changes by making these sustainable home improvements today and further incentivising your switch to an electric vehicle.
All of these home improvements can have a considerable positive impact on your property value and the planet. They can also help you save money on regular energy bills too. Making sustainable choices can make a lot of financial sense, and they help ensure your home is desirable to its next owners, giving you a great return on investment and a quick and stress-free sale.
Whilst you're here, you might also be interested in...
|
Posted on November 01 2022