Top 10 Ethical & Sustainable Clothing Brands You Need In Your Life This Autumn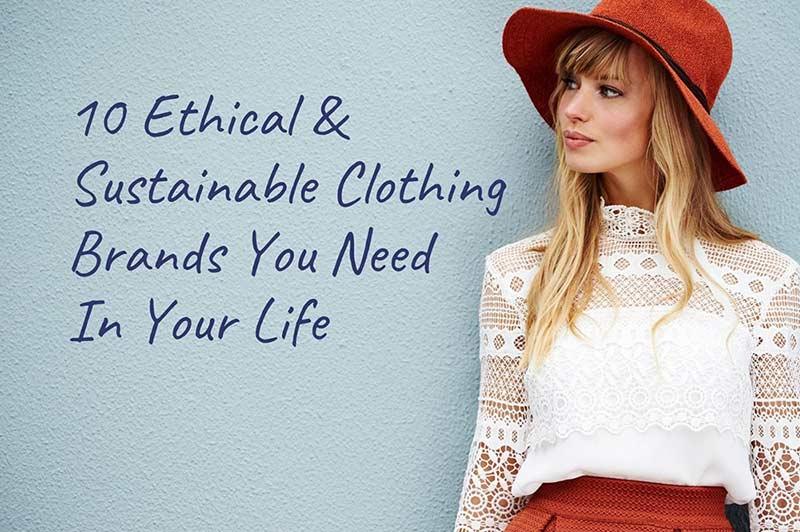 Top 10 sustainable clothing brands you need to be following - ethical clothing with a focus on slow fashion.
Ever since the rise of fast fashion, the making of new garments has become progressively unethical and unsustainable. Brands introduce a new collection into their store every week, throwing away what has not been sold shortly after the garment was made by underpaid and often abused sweatshop workers. Thankfully, not all fashion today looks like this. There are some brands doing things the ethical and sustainable way. The slow fashion model, with ethical clothing production practices and sustainability policies limiting their impact on the environment. Any time you buy clothes, you support the company that made them. This autumn let it be one of those wonderful ethical and sustainable clothing brands.
People Tree is one of the leading clothing brands amongst those working for a more ethical and sustainable industry. Their neutral basics and fun, colourful pieces are produced by independent producers and garment workers from developing countries. This means that instead of bringing their production to a country with good working conditions, they create good working condition standards where they are desperately needed – a truly honourable mission.
2. Will's Vegan Store
Will's Vegan Store is the UK go-to for sustainably and ethically crafted faux leather clothing and footwear for men and women. The company started as a shoe store but has now expanded its range to include a wide array of clothing. Instead of crafting vegan leather out of plastic, Will's Vegan Store uses plant-based materials, which are arguably the best alternative to leather that there is.
3. Thought
Wouldn't it be better if, instead of following trends, fashion brands designed truly timeless pieces which can last in your wardrobe for decades? That's exactly what the London-based company Thought does with their slow fashion ideas. It caters to both men and women who like their ethically and sustainably produced clothing to last a long time and feel comfortable through all those years.
Nancy Dee is not only designing their pieces in the UK – they make them here too. Whether you're headed to work or relaxing on the weekend, this brand has you covered. A sustainable clothing brand with a versatile range that's full of colourful dresses, formal skirts and glam jumpsuits. Their garments are made with sustainably sourced plant-based fabrics such as cotton or hemp, as well as recycled materials.
5. Bibico
Bibico is a Bath-based company inspired by the lifestyle and aesthetic of Spain. From denim, through knitwear to skirts and dresses, they use predominantly organic cotton and wool to craft their collections. Versatility and timelessness are some of the core values of Bibico, which strives to make getting dressed every day an enjoyable, fuss-free and guilt-free process.
6. Olive
Olive achieves its unique aesthetic by combining seemingly contrasting components: heritage with modernity, simplicity with playfulness or street style with elegance. Their garments are designed by independent designers and crafted by fairly paid workers from South Korea, Spain, India or England. Even after the company found commercial success, it remained a family-owned business which is staying on the same ethical and sustainable tract that it started on.
7. Beaumont Organic
Beaumont Organic is a British sustainable clothing brand with a minimalist aesthetic and everyday wardrobe staples for a range of different body types. Besides dresses, trousers and knits they also offer yoga apparel, underwear, nightwear, accessories and baby clothing. Alongside organic cotton, which makes up the majority of their range, they also use linen, lyocell, Tencel or wool to craft their clothing. In order to ensure high working standards, the brand only uses small factories based in the EU, which are governed by the EU's strict worker right regulations.
London-based COSSAC combines trends with timeless elements, to create the unique style of the brand. Their motto is that fashion which nobody wants to wear is wasteful and based on that, they create their playful and unique range which not just lovely to look at but also comfortable and durable. The company only has a limited number of pieces in every collection, to ensure that everything gets sold and nothing goes to waste. The style of this brand is quite different than any other brand on this list and will surely please a fashion statement lover who's into their slow fashion.
9. Mayamiko
If you are craving a little more pattern and colour in your everyday wardrobe, Mayamiko has got your back. This sustainable clothing brand has an ethical mission of empowering disadvantaged artisans by providing them with the skills, education and training they need to take their business further. It sources its materials locally in Malawi, where their pieces are crafted. What is great about their supply chain is that they make all pieces on demand, ensuring that absolutely nothing goes to waste!
There is no seasonality to their garments, which would make them go out of fashion – just lovely, fairly crafted clothes to wear for years to come.
10. Noctu
Through this list of brands, you have probably noticed quite a few brands that will get you dressed for work, school, parties or while you're running errands. Now that we talked about these, you're going to need some ethically and sustainably produced nightwear. Noctu's mission is all about getting you ready to relax and unwind in the most comfortable clothes possible, without compromising ethics or sustainability. The brand uses GOTS certified organic cotton and also certified as 'Standard 100 Oeko-Tex®' – this means that the materials they use to craft their garments are free of chemicals and safe to the environment, the industry's workers, as well as you. The GOTS certification also ensures that the company's production chain adheres to strong ethical standards regarding working conditions and allows no child labour.
Is Your Favourite Sustainable Clothing Brands Missing?
We know this list is far from exhaustive when it comes to sustainable clothing brands and ethical clothing. It's so great to see more brands turn to slow fashion to help drive the benefits this has for our environment. Missed any of your favourite brands out? Drop us a message so we know about them!
|
Posted on September 10 2020