How To Host An Eco–friendly Birthday Party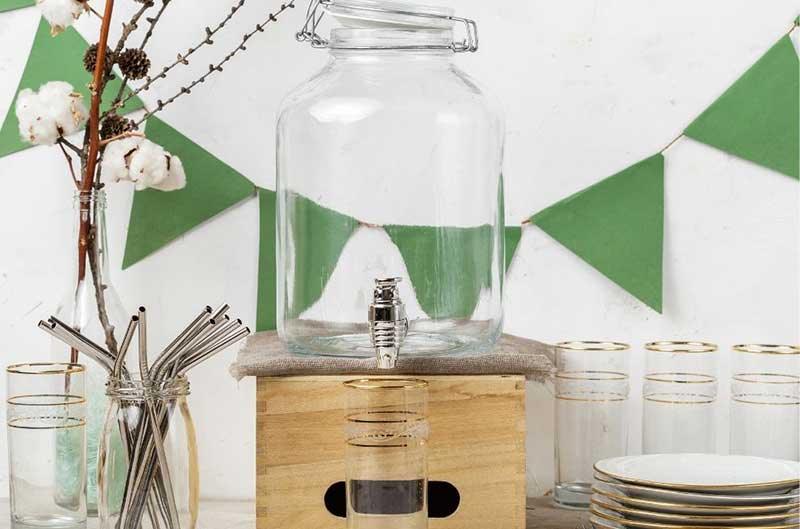 Birthday parties can be stressful, expensive occasions. Not to mention environmentally damaging; one party alone can produce hundreds of items that are sent straight to landfill.
Whether it's a kid's party or an adult gathering, hopefully, some of the tips below will show you that hosting a party doesn't have to be so wasteful. There are lots of eco-friendly alternatives out there to help turn a birthday celebration into an ecologically conscious and less damaging event; without substituting the fun. So, let's get into our eco friendly birthday party tips!
Invitations and gifts
The easiest thing you can do when hosting an eco-friendly party is to send the guests digital invitations. This straight away reduces the carbon footprint of having to post and deliver to 20 or so different addresses and is much more convenient, allowing for immediate, collated responses. Whether it be a WhatsApp group, an email, or a targeted Facebook post.
If the guests want to bring gifts, then suggest that they could be wrapped in recyclable wrapping paper or newspaper. For children's birthday parties you could even use old drawings, there are even wrapping papers that can be coloured in first by the kids before being used for gifting.
Ideally, they could even repurpose old gift bags they may have lying around as these save on having lots of unwrapped paper around the place, eco-friendly or not. It's just less of a mess.
As for the gift itself, for children, you could ask for second-hand books or toys. This way the birthday boy or girl receives a few special presents that get to be reused in a new home; without the associated costs. For adults, you could ask for alcohol (preferably in a glass bottle) or items such as sustainable clothing, beeswax candles or personalised accessories made from recyclable material.
Location of the Party and Entertainment
The easiest place to host a party would most certainly be your home. This saves on the cost of having to hire out a venue and also ensures you have complete control over how ecological you want your event to be.
For kids you could keep it simple and stick to traditional board games or if you think outside the box, maybe your party could involve a puppet show, a storyteller, a magician, or a treasure hunt; you could even all dress as pirates.
Playground games like hide and seek, tag and musical chairs (assuming they're not plastic) are also fine. Even the adults can play hide and seek if they want to; the simple classics can be just as fun at any age.
If you wanted to move the action outside however then there are plenty of day out experiences to keep everybody entertained. A walk or bike ride to a history or science museum for example or a walking tour of TV and film locations.
If your day involves a car journey, make sure to pay attention to traffic updates and plan the quickest route before you leave. This will cut fuel consumption and reduce your carbon footprint.
For adults, perhaps a picnic by the lake or a stargazing evening. Making sure to bring reusable metal flasks to keep your drinks warm or cool as well as a small receptacle to collect any waste you might create will also help.
Food and Food Packaging Options for an Eco Friendly Birthday Party
When considering options for an eco friendly birthday party, you'll want to have a little think about these next points.
When serving food at a kid's party the best choices would be things such as vegetables or organic fruit treats sourced from local farms or health shops. Finger foods that aren't too messy like fruit skewers or carrot sticks, are locally sourced to cut food miles and your carbon footprint.
Vegan alternatives also help curb meat consumption, and there are some great vegan birthday cake flavored snacks available nowadays to help. But these aren't for everybody so consider baking your own goods like cookies, gingerbread, and cupcakes. The kids could even bake these themselves during the party.
For outdoor events, the food should be much the same, finger foods and nibbles you've baked earlier. Snacks that don't make much of a mess mean less potential food wastage outside, especially if they're stored in plastic-free eco-friendly containers.
If there's no other alternative and plastic has to play a part in your party, then make sure it's in the form of Tupperware boxes that you already own and know you're going to reuse. Despite some of these products claiming to be marginally better for the environment, there is still the risk of toxins leaching into your food over time so an eco-friendly alternative would always be the better option.
Containers made of glass and stainless steel are also preferable. For a children's party, however, glass could be a safety risk and so compostable alternatives such as bees wax bags, vegan wraps and oilskin containers are all good zero-waste solutions for storing sandwiches and nibbles.
An adult's party could involve people bringing their own food in eco-friendly containers. Turn it into a sophisticated event, each person brings a course (or each brings a different organic nibble depending on guest numbers) and any leftovers can be taken home for another day. Using proper cutlery and tableware will also negate the need for paper plates and plastic alternatives.
As for drinks, you could make a variety of different fruit cocktails in giant glass pitchers or get people to bring their own alcohol, ideally in glass bottles or aluminium cans that can be recycled. For kids, offer sugar-free orange juice, fruit punches and dairy-free milkshakes out of reusable plastic-free cups with paper straws. Make sure any waste is correctly disposed of through the use of clearly marked bins, for compost, food waste etc.
For children, try saving the cake for the party bags at the end of the day. This saves on needing to buy paper plates and plastic cutlery for messy items of food. These kinds of disposables are unhelpfully unrecyclable when soiled (i.e., when any food touches them) so avoid buying them. This fact can sometimes go unnoticed, especially as the word 'paper' can fool people into thinking they're an eco-friendlier option.
This is another occasion where vegan-friendly, reusable alternatives such as oilskin lunch bags and bees wax containers come in useful.
Decorations and Party Bags
Decorations for an eco friendly birthday party are important but most typical things found at parties are not eco-friendly. Anything glittery, shiny, or any embossed decorations are non-recyclable and so substituting these for banners, confetti, fans, and party hats made out of paper and cards is a good alternative.
When it comes to balloons, these should be out straight away. One only has to remember the Cleveland Balloon fest to recall how releasing 1.5 million balloons into the air led to ecological chaos, clogged waterways, and disturbed habitats. Latex can take up to four years to break down and we know that birds and other wildlife can choke or get strangled by balloon material. Sealife can also be impacted by the harmful toxins they release and can even mistake the material for food. None of this is worth it for the sake of having a few balloons at a party.
Making your own decorations is much more ecologically friendly and could even be fun. Paint jars, make your own confetti with a hole punch, and print out paper backdrops to pose with, why not have a photo booth with paper masks and dress-up items? Be silly and creative.
If you're a keen knitter, why not even try knitting your own decorations, things like cute decorative receptacles for storing your snackable party treats. Even something simple like swapping the kind of material you use for your goody bags can be helpful. Things like paper bags and compostable oilskin pouches that will break down and can be recycled are ideal for goody bags.
No kid's party is complete without this birthday staple but most are filled with plastic toys and non-recyclable single-use minutiae that more often than not get thrown straight away. This can be frustrating considering many of the things that come in these goody bags usually have eco-friendly counterparts. Wooden Yo-Yo's instead of plastic ones for example or maybe compostable stickers, there are even bubble blowing kits that are plastic-free and made out of recyclable materials.
Some more eco-friendly alternatives to put in a party bag such as small books, wooden rulers and pencil sharpeners that can be used at school are ideal for children. The adults on the other hand could be given day-out vouchers, gift cards or charitable donation slips.
Quick tips
A quick tip when finding your decorations and such for a party is to look for items that explicitly say compostable on them. This is a legal definition that cannot be up for interpretation like other items that claim to be environmentally friendly. Therefore, if it says compostable, then it IS compostable.
As for the term compostable, it's important to be aware that this doesn't just mean 'will break down in landfill'. Compostable items need to be disposed of properly in a compost bin or heap; of which there are many cheap options out there.
The compost will allow these products to completely break down whereas a lot of landfill sites are either anaerobic (meaning they don't get the oxygen required for the composting process to take place) or they're huge sites of decaying toxic gases and plastics where any benefit from the eco-friendly process will be more or less completed negated.
This means your compost is much better redistributed back into your own soil than ending up in landfill.
Summary
It doesn't have to be an effort to host an eco friendly birthday party as there is a wide range of options out there. It's important to remember however to first consult with your child when planning their birthday party; being eco-friendly is important but don't let it come at the expense of your child's enjoyment. Talk it through together about the ways you can reduce food waste, encourage the use of compostable materials, and discuss the kind of entertainment they might want. Adults will usually be more receptive. All in all, we hope this article has helped you out and sparked some creative ideas on how to host your very own eco-friendly birthday party.
About the Author
LimaLima stocks thousands of greeting cards available to purchase online. They try and do their bit to protect the environment by sending all packages plastic-free and using cards and envelopes made from FSC certified paper.