Top 5 Eco Carpet Cleaning Tips To Protect Your Carpets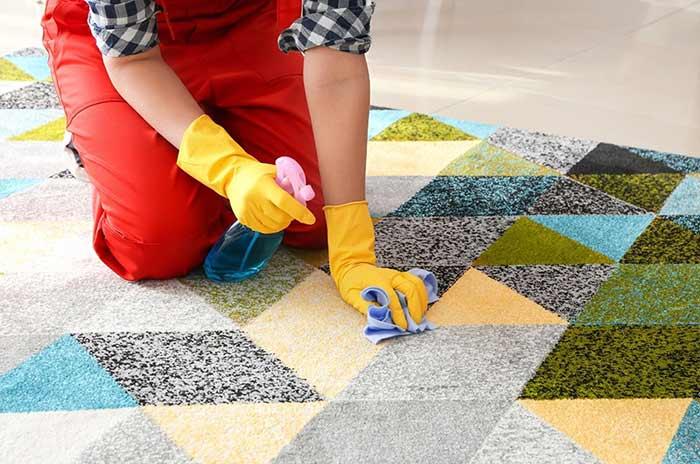 Traditional cleaning products contain hazardous chemicals, posing a risk to both humans and the environment. If you're searching for ways to clean your carpets without using these potentially dangerous substances, you would be better off opting for eco carpet cleaning products. Not only are these environmentally friendly but they're less toxic to pets and your family too. Here, we share our top 5 tips on how to clean your carpet sustainably using green cleaning products and minimal effort.
How To Clean Your Carpet Sustainably
Cleaning your carpets can be effortless once you follow our top tips. The below tips use a combination of eco carpet cleaning products and home-based mixtures. Home-based mixtures can be made in a glass bowl or re-usable plastic container, which is a great alternative to plastic packaged cleaning products, such as sprays.
Whether you're searching for handy steps for cleaning commercial carpets or for carpets in your home, you'll be able to effectively clean your carpets while being kinder to the environment.
1. Vacuum regularly
Regularly vacuuming your carpets eliminates crumbs, dirt, dust and other impurities. You should always vacuum before using any treatment products as this will ensure that dirt or debris doesn't become trapped. Aim for vacuuming at least once each week. High traffic areas should be vacuumed two to three times per week.
2. Spot clean problem areas
Before investing in any eco carpet cleaning products, spot-treat problem areas. You can do this using a variety of natural products that you'll find in any supermarket. For mud and dirt, use a little salt over the area before vacuuming. For grease spots, use a little cornstarch. If you have any coffee stains, you can use carbonated water as a spot cleaning treatment. If you have carpet odours, use a little baking soda on the area and leave it overnight.
3. Make your own carpet cleaner
Making your own carpet cleaning solution is a straightforward step and you only need a couple of ingredients. The great thing about DIY cleaning solutions is that you know exactly what ingredients are going into your mixture. You can also make use of existing containers - reducing your plastic consumption. To make an effective carpet cleaner, use a mix of natural hand wash soap, a little baking soda and a few drops of essential oils. Lemon or orange essential oils work well and provide a gentle aroma. If you'd prefer to buy eco-friendly cleaning products, read the labels carefully to determine the ingredients used. Some use plant-based ingredients while others do not.
4. Clean spillages immediately
Dealing with spills immediately helps to prevent stains and odours. The first step is to soak up any excess liquid with a paper towel or reusable kitchen roll. Next, use hot soapy water and a clean cloth to gently scrub the area. Leave to dry naturally. If it does leave a tough stain, use a combination of three parts water and one part distilled white vinegar. This should effectively remove the stain without damaging your carpet.
5. Steam clean without using a detergent
If you require a deep clean of your carpets, you may prefer to use a professional steam cleaner. You can use a plant-based cleaning solution with a steam cleaner. Alternatively, you can use a little white vinegar. Hot steam eliminates bacteria, so you won't need to use any toxic products for this purpose.
Incorporate these eco carpet cleaning tips today
Now you know how to clean your carpet sustainably, you can begin to implement these techniques into your green cleaning routine. As well as reducing the risks that toxic chemical cleaning products pose, you'll also be doing a favour to the environment by implementing these eco carpet cleaning tips! Just remember to check the individual labels of products if you decide to purchase eco-friendly carpet cleaning products.