8 Best Zero Waste Shops In London For Plastic Free Bulk Foods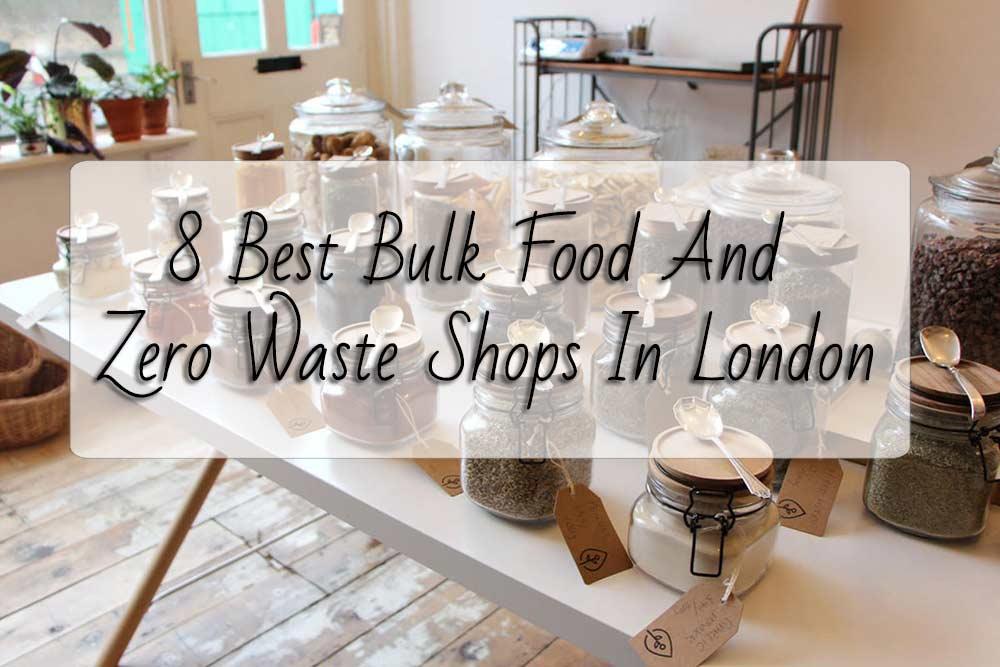 Best Bulk Food Shops And Zero Waste Shops In London
There's a very good reason we're discussing our 8 best zero waste shops in london this week. So many people are now looking for more sustainable ways of living and trying to find little ways to make a difference. People are beginning to play their own part in the war against plastic and fighting for a cleaner environment. These zero waste and bulk food shops greatly help in cutting down unnecessary packaging and can really help make a difference when we need it most. Where we at Friendly Turtle offer on-the-go and natural beauty products, these shops offer zero waste fresh and dried goodies for your weekly shop at home.
Just in case you're not familiar with what zero waste and bulk food shops are all about, they sell fresh products, dry goods and liquids without packaging in boxes or plastic. They usually have glass-like dispensers filled with lovely goodies which you dispense yourself into your own bags and containers. Simply bring your own packaging with you and refill whatever you want each week!
Best Zero Waste Shops In London
More and more zero waste shops are popping up around London as the market continues to grow. Customers no longer want the excess packaging found wrapped around so many of our weekly goodies. With this in mind, we have prepared a list of the best zero waste and bulk food shops in London. Let's dive straight in find out what makes them great, where they are and a little bit more about them!

Hetu
Hetu was set up in 2017 by Laura who was also inspired by the number of people looking for zero waste groceries. Hetu is one of our favourite vegan zero waste shops in London, serving up herbs, grains, zero waste cleaning products, apple cider vinegar, pasta, and many more. Hetu was one of the earliest bulk food shops in London, helping customers buy bulk foods and sustainable, reusable items. And Laura is on a mission to help benefit our health of their customers, and our planet.
Location: 201 St.Johns Hill, London SW11 1TH
Earth Natural Foods
Earth Natural Foods is another great bulk food shop in North London with a huge variety on offer. Their independent food store serves up a whole variety of vegetarian wholefoods, organic, vegan, fair trade, gluten-free, wheat-free and biodynamic foods (sounds great right!). They also have personal care products like shampoo and conditioner which can be refilled in your personal containers. They have liquids for cleaning and laundry all available to refill. They really have a stunning range, from freshly baked bread, cakes and pastries, to artisan cheeses and homemade takeaways. It's a superstore for all things kind and lovely, and you have to see it for yourself.
Location: 200 Kentish Town Road, London, NW5 2AE
Unpackaged At Planet Organic
Unpackaged is one of the best zero shops in London and was started in 2007. They can now be found in a number of different locations around London. They sell organic products like coffee, sugar, cereals, dried fruits, wine, and so on. All their products are high quality and offer you a way to shop premium while keeping the cost to both the environment and your pocket low
Location: Muswell Hill, Torrington Place, Westbourne Grove, and Islington
www.planetorganic.com/unpackaged-at-planet-organic/
The Source Bulk Foods
This bulk food shop was actually born in Australia and now they have two stores in London. With a beautiful store, Patrick and Makayla are trying their best to encourage package-free products, providing organic products like cooking oils, snacks, personal products, coffee, dried fruit, herbs, spices, and many more. Their major concern is fighting against waste caused by unnecessary packaging and so far, they've done a pretty good job. They also have an incredible website which tells you nutritional values of just about everything that they sell in their zero waste store- definitely worth a look.
Location: 99 St. John's Road, Battersea SW11 1QY, United Kingdom
Naked Larder
Naked Larder was set up with the mission to reduce packaging as much as possible, especially for dried foods which don't even need packaging. This is one of the best zero waste shops in London which provides dried foods at very affordable prices. They have changed the way you can shop in South London, with their introduction of eco-friendly cleaning products too. Purchasing items from Naked Larder is cheaper because they buy in bulk which makes their prices lower and more wallet-friendly.
Location: Herne Hill London SE24 9QP
Harmless
Harmless is a vegan bulk food shop in London which also works towards providing healthy eco-friendly products for consumers, encourage recycling, and reducing waste. Harmless has eco-friendly products such as sugar, cleaning liquids, tea, refill body wash, oats, nuts, pasta, and many more. They get their products from socially and environmentally conscious manufacturers to further encourage reduced packaging. Plus we love the colour of their shop!
Location: Blue House Yard, 5 River Park RD, Wood Green, London N22 7TB
Get Loose
Get Loose Foods offers fresh and dried organic produce, unpackaged, such as grains, cereals, dried fruits, nuts, cheeses and many more. All their organic foods are available without the need to dispose of packaging thereby encouraging recycling and discouraging waste. The care for the planet and humanity has inspired this zero shop to keep producing fresh and dry foods at very reasonable prices. They are based in the heart of Hackney City Farm and have ample bicycle parking for all your needs!
Location: 1a Goldsmith's Row. London E2 8QA
Worth Mentioning Outside Of London
Earth. Food. Love
Earth Food Love was set up by Nicola and Richard in 2017 and it was purely established to encourage people to eat healthily and still take care of the environment. The first thing to love about this zero shop is the fact that they are willing to share information on how to start up a new bulk food shop in London. Earth Food Love has more than enough organic products to choose from including pulses, cereals, grains, dried fruits and spices, flour, and so on. They believe that less packaging would even provide more health benefits for consumers and still improve the earth.
Location: 101 High Street, Devon, TQ9 5PF.
These are just a few of the many bulk food shops in London. They all have one thing in common and that is the passion to reduce waste from over-packaged products. With more people changing the way they shop, we expect many more of these lovely and eco-friendly bulk food shops to be popping up. If you don't have a physical shop near you yet, fear not- it's only a matter of time before one does. appear in your town. Until then, there are always online shops delivering plastic free bulk foods direct to your door :)