4 Simple and Stunning Ways to Reduce Waste by Upcycling Gifts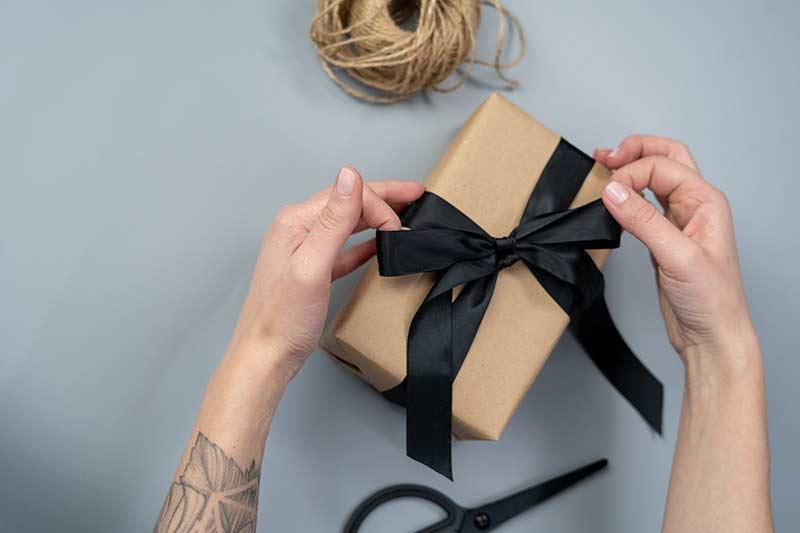 Gift-giving is an important part of our culture, and yet it's also a practice that generates a lot of waste and creates a worrying carbon footprint each year.
If you're looking to take a more eco-friendly approach and show those special people in your life how much you care, or transforming unwanted gifts into something useful, then upcycling is a great option. Here are some ideas for repurposing presents and the associated accoutrements in an environmentally conscientious way.
1. Gift Wrapping Hacks: Reusing and Recycling Old Gift Wrap
It's easy to get caught up in the excitement of buying new wrapping paper, but when it comes to reducing waste, reusing old gift wrap is a great option.
You can repurpose any kind of paper into something special for your next present, such as magazines or newspaper clippings. Alternatively, you could create beautiful patterns using leftover fabric scraps. For an extra eco-friendly touch, why not add some natural elements like twine or pressed flowers?
You don't have to be crafty either; there are lots of simple ways that you can reuse existing materials without needing a glue gun or sewing machine. Just think outside the box - by turning used bags into ribbon-like bows for example – and make sure that whatever material you use is appropriate for what's inside so things stay secure during transport.
Also, don't forget about upcycling old gift boxes too - they can be transformed into something special with a bit of creativity.
2. Repurpose Those Leftovers: Creative Uses for Unexpected Gifts
When it comes to gifts, sometimes we get things that we don't really need or want. But instead of throwing these items away, why not transform them into something useful? It might sound like a challenge but with a few simple hacks you can turn your less-than-loved presents into practical and attractive objects around the house.
For example, if you've received an old scarf then simply sew on some buttons or ribbons and use it as a decorative throw pillow cover. Or perhaps repaint a wooden box to store photos in – perfect for displaying memories at home. And don't forget that it's easy to put together custom calendars online using photos you've taken over the years, then present this in an upcycled storage solution of your choosing.
You could also upcycle used books by covering their covers with fabric or craft paper - giving them new life while reducing waste at the same time. And let's not forget about all those random trinkets either; from turning broken jewellery pieces into keyrings to creating Christmas decorations out of party favours – there are so many possibilities when it comes to repurposing unexpected gifts.
3. DIY Crafts With Unused Presents: Make Something Special from Nothing
With a bit of imagination and the right materials, you can transform old gifts into something new and special.
Start by gathering all your unused presents - clothes that don't fit, toys with missing parts, books without covers - anything goes!
Then get creative; think about ways to repurpose these items for other purposes. For instance, instead of throwing out an old t-shirt why not use it as material for a quilt or pillowcase? Or perhaps turn some action figures into quirky keychains? You'd be surprised at how many things you can make with just a few simple supplies.
If DIY isn't your thing then there are plenty of online tutorials available which will help you craft unique pieces from everyday objects. From doll-sized clothes hangers made out of paperclips to flowerpots crafted from boxes – upcycling is always fun and rewarding. And best yet – when people admire your creations they'll never know that it was made from something pre-loved!
4. Reimagining The Ordinary: Upcycling Common Gifts Into Eco Friendly Alternatives
It's not always easy finding ways to reduce waste with our everyday items - especially those that are considered 'ordinary' such as gift cards, candles and mugs. But with a bit of creativity, you can easily turn these items into something special and sustainable.
For instance, why not use old gift cards to make DIY coasters or trivets to go along with your sustainable coaster collection? Alternatively, create unique decorations by melting down leftover candles – perfect for adding some extra sparkle around the home.
You could also repurpose used mugs in many different ways; from turning them into mini planters for succulents to making cute little storage jars out of ceramic cups, the possibilities are endless when it comes to upcycling common gifts.
Finally don't forget about all those paper products too such as festive greeting cards which can be reused as postcards or wall art - just get creative and have fun!
Final Thoughts
Hopefully we've inspired you to start thinking about how you can repurpose gifts through upcycling. Whether you keep them at home or re-gift them to an eco-conscious loved one, you'll feel more fulfilled if you get involved yourself!
|
Posted on February 13 2023